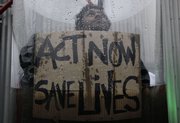 Copenhagen — Delegates to a pivotal climate conference welcomed an Obama administration move Monday to regulate greenhouse gases under existing clean air law, but said they still expect more.
The announcement came as the two-week meeting of 192 nations opened with emotional appeals from those countries endangered by rising seas and other damage from climate change.
The conference climax will come when President Barack Obama and more than 100 other national leaders arrive for the final hours of talks next week. In preparation, Obama met with former Vice President Al Gore, a leading climate campaigner, at the White House on Monday.
Earlier in the day, the European Union had called for a stronger "bid" by the Americans, who thus far have provisionally pledged emissions cuts much less ambitious than Europe's.
The endgame in Copenhagen "will mostly be on what will be delivered by the United States and China," the world's two biggest greenhouse-gas emitters, European Union environment spokes-man Andreas Carlgren told reporters. He said he would be astonished if Obama did not put more on the table.
Whether the prospect of EPA action will satisfy such demands — and what China may now add to its earlier offer — remains to be seen. And success in the long-running climate talks hinges on more than emissions reductions. Most important, it requires commitments of financial support by rich countries for poor as they cope with the impacts of a changing global climate.
"The clock has ticked down to zero. After two years of negotiations, the time has come to deliver," Yvo de Boer, the U.N. climate chief, said as he opened the conference in the chilly Danish capital.
The conference president, Denmark's Connie Hedegaard, called it a last, best chance.
"Political will has never been stronger," she told delegates assembled in the Bella Center's cavernous plenary hall. "And let me warn you: Political will will never be stronger. This is our chance. If we miss it, it could take years before we got a new and better one. If ever."
Some 15,000 delegates, environmentalists, business lobbyists, journalists and others are gathered in the huge convention center for the pivotal talks, along with thousands more outside, planning protests, street theater and scholarly discussions.
As climate talks have dragged on for two decades, the planet has continued to warm, something scientists blame largely on carbon dioxide and other emissions from the burning of fossil fuel and other industrial, transport and agricultural sources. Today, the World Meteorological Organization is expected to announce that 2009 ranks as one of the warmest years on record, and this decade as the warmest.
The focus in Copenhagen has fallen on individual countries' pledges of emission reductions, to be incorporated in some final agreement to succeed the Kyoto Protocol, whose modest emission cuts for 37 nations expire in 2012.
The EU has pledged an ambitious 20 percent reduction in gases by 2020, compared with 1990 levels, and 30 percent if other nations also aim high.
Obama has offered to reduce U.S. emissions by about 17 percent by 2020 — but against a later benchmark year, 2005. Compared with 1990, that's only a 3 percent to 4 percent cut. Obama's offer had to be provisional, pending action in Congress.
Copyright 2018 The Associated Press. All rights reserved. This material may not be published, broadcast, rewritten or redistributed. We strive to uphold our values for every story published.