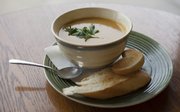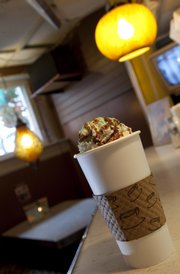 Winter weather means finding ways to keep warm inside and out. One of the perks of that task is making delicious comfort food to ward off the chill.
Some Lawrence businesses have shared tips and recipes for passing a cold winter's day or night.
Mirth's Roasted Butternut Squash and Pumpkin Bisque
A steaming bowl of soup is the perfect way to re-energize after a day spent in the snow. Mirth Internet Cafe, 745 N.H., recently added Roasted Butternut Squash and Pumpkin Bisque to its menu.
"Enjoy with a goat cheese and spinach salad and a glass of white wine," chef Ryan Shaughnessy says.
2 butternut squash peeled, de-seeded and cubed or 4 cups roasted puree
2 cups carrots, peeled and sliced
3 cups fresh pumpkin, peeled and sliced
2/3 cup diced yellow onion
4 tablespoon olive oil
8 cups vegetable stock
2 cups white wine
2 cups whole milk
Salt, pepper, nutmeg, cinnamon and allspice to taste
Toss squash in olive oil and bake at 350 degrees for 25 minutes, or until soft. Puree in blender, add water if necessary.
Sauté pumpkin, carrots and onions in olive oil until soft, stirring occasionally. Add white wine and simmer until reduced halfway, stirring occasionally. Add butternut squash puree, simmer and stir for 10 minutes. Add stock and seasonings. Simmer for 45 minutes, stirring occasionally.
Use immersion blender or kitchen blender to puree the batch. If using a kitchen blender, puree in small portions. Return to pot and slowly whisk in whole milk. Simmer for five minutes.
Java Break's Minty Hot Chocolate
You also can warm up and chill out on a wintry day with a hot cup of cider, cocoa or coffee. Signs of Life, 722 Mass, and Java Break, 17 E. 7th St., have brews to soothe those winter blues.
Java Break's Minty Hot Chocolate is a popular choice. Owner Derek Hogan said Java Break's own homemade chocolate and mint syrups that are used in the recipe are available for purchase in-store, but to get the homemade vanilla whipped cream on top you'll have to have him make you one.
2 tablespoons chocolate syrup
1/2 ounce mint syrup
14 ounces milk steamed with espresso machine
Top with homemade vanilla whipped cream. Makes one 16-ounce serving.
Signs of Life Pumpkin Latte and Caramel Apple Cider
Signs of Life assistant manager Megan Todd said the cafe has different drinks for every season, and pumpkin-flavored confections, like the Pumpkin Latte, are particularly popular..
"People started asking for them at the end of August," Todd says.
Signs of Life also has a seasonal Caramel Apple Cider, which is made with locally brewed cider and steamed with the espresso machine.
Pumpkin Latte
Espresso
Steamed milk
Pumpkin syrup
Top with whipped cream or Jack-O-Lantern latte art
Caramel Apple Cider
Apple cider
Caramel sauce
Steam together with espresso machine. Top with cinnamon.
Copyright 2018 The Lawrence Journal-World. All rights reserved. This material may not be published, broadcast, rewritten or redistributed. We strive to uphold our values for every story published.