Topeka — Kansas has received a $2 million federal grant that officials said Monday will help provide access to high-speed Internet service throughout the state.
Lt. Gov. Troy Findley said the grant will help the state's economic recovery, especially in rural areas.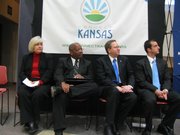 "For rural Kansans, this means economic growth through e-commerce, enhanced services through e-government and improvements to quality of life," Findley said at a news conference.
The initiative aims to develop a map of the state's existing broadband infrastructure, and then provide grants and loans to providers to expand broadband service.
The $2 million grant was from the federal American Recovery and Reorganization Act. There is more than $7 billion available under the act to expand broadband throughout the nation, officials said.
9:54 a.m.
Kansas received a failing grade for its charter school law, according to a group that advocates for charter schools.
"Some states have been pioneers in this effort, and others are far behind. Kansas's law is abysmal and should be completely reformed and overhauled," said Jeanne Allen, president of the Washington, D.C.-based The Center for Education Reform.
Charter schools receive tax dollars but can be designed and operated by parents, educators, community leaders and others. They are subject to the same accreditation standards as other schools.
Charter school advocates have long complained that Kansas' charter school law is too restrictive and prevents the formation of more charter schools. The Center for Education Reform said Kansas' charter school law is the weakest in the nation.
There are 34 charter schools currently operating in Kansas, according to the state Department of Education.
The Center for Education Reform said Kansas' law could hurt the state's effort at winning a portion of the federal government's $4.3 billion "Race to the Top" grant, which focuses on school innovation.
Copyright 2018 The Lawrence Journal-World. All rights reserved. This material may not be published, broadcast, rewritten or redistributed. We strive to uphold our values for every story published.