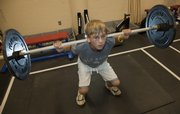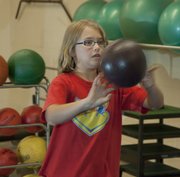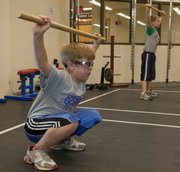 Among issues about the fitness of American children, few are more contentious than whether they should lift weights.
While many trainers and professionals have claimed lifting weights at a young age can stunt growth, Andrew Fry, a Kansas University professor, says he has seen no evidence to support the claim.
But Fry, chairman and professor of health, sports and exercise sciences, says a lack of evidence does not mean children should lift weights like a normal adult. Children who have not reached puberty cannot grow much muscle mass and can wear out muscles at an early age.
"One guideline is to use a weight that a child can handle for 10 repetitions," he says. "And that does a couple of things. It makes the weights lighter, and it also reinforces one of the best teaching tools: repetition."
Many problems with children and weightlifting involve the use of lifting machines. Fry says almost all machines are designed for adults, allowing for children to use the machines out of position and strain a muscle. There are risks with free weights as well, including lifters dropping a bar or dumbbell on themselves.
"The keys words there are supervision and proper technique," Fry says.
A good child fitness program teaches children the motions of weightlifting to build confidence in the process while not straining their muscles, Fry says. One example of this could be imitating free-weight squats using a broom.
Like other youth sports, though, Fry says parents should not force lifting on to their children.
"At some point there needs to be something where the child enjoys it," he says. "It's not just basic training and you have to gut it out."
Rick Sells, owner of Lawrence Athletic Club, says competition in youth activities, including weightlifting, should be a teaching process — not a must-win competition.
Sells says many parents have come to him asking how they can help their children gain or lose weight for youth football or wrestling. Both Sells and Fry agreed parents should let their children grow naturally without trying to bulk them up or lose weight for a competition.
"I have guys tell me all the time, 'I have a 10-year old-son and need to put 20 pounds on him — how can I do it?'" Sells says. "I jokingly say, 'Well take him out to the doctor, put him on steroids and feed him some beer and hamburgers all day long, and I'm sure in the next six weeks he'll weigh 20 pounds more.'"
Sells says weightlifting should be just a small part of a child's fitness routine. Parents should encourage their children to participate in aerobic activities like basketball, tennis and gymnastics that keep muscles in good condition.
"You're probably not going to hurt them," he says. "You're probably not going to wear them out, and it's probably not bad to put them on a weight program. But it needs to be the right kind of program, and it needs to have a lot of cardio, in there because that's what they need more than anything."
Safety first
Here are recommendations from the American Academy of Pediatrics on children lifting weights:
• Proper resistance techniques and safety precautions should be followed so that strength-training programs for preadolescents and adolescents are safe and effective.
• Preadolescents and adolescents should avoid power lifting, body building and maximal lifts until they reach physical and skeletal maturity.
• Athletes should not use performance-enhancing substances or anabolic steroids. Athletes who participate in strength-training programs should be educated about the risks associated with the use of such substances.
When pediatricians are asked to recommend or evaluate strength-training programs for children and adolescents, the following issues should be considered:
• A medical evaluation should take place before training.
• Cardiac problems should be addressed before training.
• Aerobic conditioning should be coupled with resistance training.
• Training should involve warm-up and cooldown.
• Ensure athletes are properly hydrated.
• Learn exercises with no resistance first.
• Program should address all major muscle groups.
• Proper technique and strict supervision by a qualified instructor are critical.
Copyright 2018 The Lawrence Journal-World. All rights reserved. This material may not be published, broadcast, rewritten or redistributed. We strive to uphold our values for every story published.