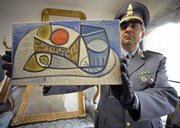 Rome — Italian tax police said Saturday that they had seized works by Van Gogh, Picasso, Cezanne and other giants of art in a crackdown on assets hidden by the disgraced founder of the collapsed dairy company Parmalat.
Authorities estimated the 19 masterpieces stashed away in attics and basements were valued at some $150 million.
Parma Prosecutor Gerardo Laguardia said that, based on wiretapped phone conversations, officials believed at least one of the paintings hidden by Calisto Tanzi was about to be sold.
"We got lucky. We learned that there were negotiations under way to sell one of the paintings," which led to a raid of three apartments in the area of Parma, near Parmalat's headquarters, Laguardia said in an interview on Italy's Sky TG24 TV.
He didn't identify the painting.
Bologna-based tax Police Col. Piero Iovino told The Associated Press by telephone that investigators believed the entire batch of paintings, watercolors and drawings were up to be sold.
The prospective buyer was a Russian, possibly living in Italy, Iovino said.
No arrests were announced as part of the art seizure.
Tax police said Parma prosecutors are opening a probe into alleged concealing of assets in Parmalat's bankruptcy case.
Among the masterpieces seized was a pencil on paper portrait of a ballerina by Degas, two Van Goghs, including a depiction of a trunk of a willow tree and a still life, a watercolor by Cezanne and a pencil-work by Modigliani.
Copyright 2018 The Associated Press. All rights reserved. This material may not be published, broadcast, rewritten or redistributed. We strive to uphold our values for every story published.