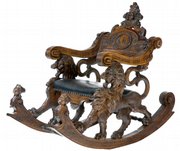 A chair can be simple, with plain lines, or it can be a "conversation piece," with exuberant carvings and colorful upholstery. Now that "Gothic" is one of the favored styles of decorating, unusual and ornate furniture is again popular at antique shows, auctions and even retail stores. From about 1860 to 1910, there was a Gothic Revival in the United States. Some furniture was made in a true Gothic style. Chairs looked like carved thrones or had high backs that resembled church window frames. Dragons and gargoyles were popular decorations. Animal feet, claws and heraldic designs were featured. Most furniture was oversized and made of dark woods like mahogany. By the late 1920s, art deco was the fashionable style. People wanted simplicity and straight lines, not fancy carvings and dark wood. Gothic was almost forgotten until the 1990s, when it once again was chosen for large houses that look like small castles and have dark carved woodwork and trim. New Gothic furniture is being made, but the quality of their wood, carvings and unique designs makes turn-of-the-20th-century pieces the best buys.
Q: My grandfather gave my mother a glass Charlie Chaplin bank when she was a little girl. Charlie is standing on a platform that's embossed with his name. Next to him is a clear glass barrel that has a top and bottom hoop. The cover is a tin twist-on closure with a coin slot. The bottom of the barrel is marked "Geo. Borgfeldt and Co., New York, Sole Licensees, Patent Applied For." Value? History?
A: Your bank was originally a candy container. Its patent dates back to 1915, the same year Chaplin's most memorable movie, "The Tramp," was released. Two different Charlie Chaplin glass candy containers were made. The other one, sold by L.E. Smith Co., is rarer, has a barrel with straight sides and sells for about $500. Yours is worth about $100.
Q: I have owned a 3 1/4-inch bronze sculpture of a cat for about 20 years. It's signed "E. Fremiet." I read that it is quite valuable. Is it?
A: Maybe. Emmanuel Fremiet (1824-1910) was born in Paris and became a well-known sculptor of large monuments and small animals. He sculpted several cats. Fremiet, like other bronze sculptors, created his work using clay or wax. Turning an original clay or wax sculpture into bronze is a complicated process. The original is taken to a foundry, which makes a rubber mold of the model. Wax is poured in and sloshed around until a hollow wax model is created, then a ceramic coating is applied to the wax and the model is fired so the wax melts out. The ceramic shell that's left is filled with molten bronze and cooled. Then the shell is removed and the bronze sculpture is polished. The mold for a small bronze can be used about 25 times. Each sculpture is an "original." The problem is that copies of any bronze sculpture can be made from an original bronze or from a copy of the original. Prices for small Fremiet originals are several hundred dollars or more. Copies of any kind sell for less; prices depend on their quality. An expert needs to look at your sculpture in person to judge it.
Q: I have an original Oscar Mayer wiener whistle from the early 1950s. Is it worth anything?
A: The Oscar Mayer Weiner Mobile first took to the road in 1936. The driver started handing out whistles to kids in 1952. Whistles were packaged with hotdogs in 1958. The earliest whistle, shaped like a hotdog just 2 inches long by 1/2 inch in diameter, is now considered a choking hazard for children. Later whistles have a wheeled base (some bases are shaped like hotdog buns), which makes them larger and therefore safer. An early whistle sells today for about $5 to $10.
Q: My mother left me a small counterbalance scale labeled with a metal plate that says, "Eastman Studio Scale for Photographic Purposes, Made by Eastman Kodak Co., Rochester, N.Y., U.S.A." That same plate has six holes drilled in it, each holding a graduated weight. The two pans are shallow metal. I can't find a date anywhere. Age and value?
A: Your scale is designed for use by a professional photographer working with darkroom chemicals. George Eastman founded his photographic supply company, Eastman Dry Plate Co., in 1881. It became Eastman Co. in 1889 and Eastman Kodak Co. (its name today) in 1892. Eastman was making scales like yours as early as 1903, when they sold for $3.50 each, and continued to make them at least until World War I. Today, the scale sells for $25 to $50.
Tip: Marble is porous and will absorb water vapors into the stone up to 6 inches deep. Airborne pollutants also will be absorbed, and eventually, when the marble dries, the dirt will erode or stain the surface of the marble. Avoid humidity.
Copyright 2018 The Lawrence Journal-World. All rights reserved. This material may not be published, broadcast, rewritten or redistributed. We strive to uphold our values for every story published.