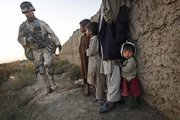 Kabul — U.S. Marines swooped down behind Taliban lines in helicopters and Osprey aircraft Friday in the first offensive since President Barack Obama announced an American troop surge.
About 1,000 Marines and 150 Afghan troops were taking part in "Operation Cobra's Anger" in a bid to disrupt Taliban supply and communications lines in the Now Zad Valley of Helmand province in southern Afghanistan, the scene of heavy fighting last summer, according to Marine spokesman Maj. William Pelletier.
Hundreds of troops from the 3rd Battalion, 4th Marines and the Marine reconnaissance unit Task Force Raider dropped by helicopters and MV-22 Osprey aircraft in the northern end of the valley while a second, larger Marine force pushed northward from the main Marine base in the town of Now Zad, Pelletier said.
A U.S. military official in Washington said it was the first use of Ospreys, aircraft that combine features of helicopters and fixed wing aircraft, in an offensive involving units larger than platoons.
The official, who spoke on condition of anonymity because he was not authorized to detail the operation, said that Ospreys have previously been used for intelligence and patrol operations.
Combat engineers used armored steamrollers and explosives to force a corridor through Taliban minefields — known as "IED Alley" because of the huge number of roadside bombs, known as improvised explosive devices, and land mines, Pelletier said.
Roadside bombs and mines have become the biggest killer of American troops in Afghanistan.
There were no reports of U.S. or Afghan government casualties. The spokesman for the Afghan governor of Helmand province, Daood Ahmadi, said at least four Taliban fighters had been killed and their bodies recovered.
He said more than 300 mines and roadside bombs had been located in the first day of the operation.
Pelletier said insurgents were caught off guard by the early morning air assault.
"Right now, the enemy is confused and disorganized," Pelletier said by telephone from Camp Leatherneck, the main Marine base in Helmand. "They're fighting, but not too effectively."
The offensive began three days after Obama announced that he was sending 30,000 reinforcements to Afghanistan to help turn the tide against the Taliban and train Afghan security forces to take responsibility for defending against the militants.
Friday's fighting was taking place in one of the most challenging areas of the country for the U.S.-led NATO force, which has been trying for years to break the Taliban grip there.
Copyright 2018 The Associated Press. All rights reserved. This material may not be published, broadcast, rewritten or redistributed. We strive to uphold our values for every story published.