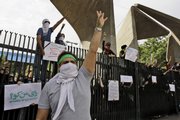 Beirut — As they gear up for a major anti-government protest Monday, Iranian students are besieged by a clamp-down in the universities, with a wave of arrests and expulsions. At the same time, authorities are intensifying enforcement of Islamic morals on women's dress and men's hair length as a way to punish political dissent.
They say authorities have cracked down at campuses nationwide to prevent the demonstrations from becoming widespread and that students recruited by the pro-government Basij militiamen are on the watch, informing on classmates suspected of being pro-opposition "troublemakers."
On Thursday police warned of a tough response, especially if demonstrators try to move outside campuses into the streets. "Any gathering or ceremony outside the designated places will be considered illegal and police will take necessary steps," a statement said.
In telephone interviews from Beirut with more than a half-dozen students in Tehran, the crackdown was described as part of a government campaign to control not only security but ideas at universities, strongholds of the reform movement that took to the streets after the disputed presidential election in June.
Some courses seen as too Western-based have been replaced with more "Islamic" ones, students say. Since classes began in October at Tehran's prestigious Sharif University of Technology, members of "herasat," a feared force of guards and morals police in universities, have been stopping women at campus gates for wearing clothes that are too colorful or not all-covering enough.
A herasat official uses a cell phone to photograph male students with long hair or those wearing colorful T-shirts, said Kouhyar Goudarzi. "If a student complains, he grabs his student card and says 'when you look like a human being, you will get your card back,"' he said.
"Student dissatisfaction has reached a point where it's about to explode," he said.
Goudarzi, a 23-year-old aerospace student, said he was expelled because he spoke to the BBC's Persian TV service about a campus demonstration in October.
"Six months later, the fire is still burning," said Atieh Vahidmanesh, a 24-year-old economics post-grad at Sharif University. "We are under aggressive surveillance."
Pro-government students recruited by the Basij militia are on the watch, turning in classmates whose loyalties are suspect.
It's difficult to judge how big Monday's protests will be, whether they will be confined to campuses or spill into city streets and squares. While calling for thousands to turn out at campuses, leaders acknowledge the crackdown may reduce the numbers.
"Our sympathizers who are not active themselves are afraid to come to the protest," said one student leader at Tehran's Allameh Tabatabei University who spoke on condition of anonymity for fear of persecution.
"We are not calling on others to participate because we don't want to pay a high price," he said by telephone from Tehran.
Some on campus dismiss such talk. "The media are used to exaggerating issues," said Mahdi Eslami, a pro-government student. "I don't feel there's been any change in the atmosphere of universities."
The June vote sparked demonstrations by hundreds of thousands claiming President Mahmoud Ahmadinejad's re-election was fraudulent. Security forces crushed those marches, and the opposition has had little success in reviving them.
But students have kept their movement alive with small demonstrations on many campuses every Tuesday.
Nearly 100 student leaders have been detained in the past weeks, human rights groups say. Many have faced Revolutionary Courts, and several have been ordered jailed for up to eight years, human rights groups say.
Amir Eslami, in the midwestern city of Hamadan, was jailed, released and went into hiding, but his body was found several days ago, according to the opposition Jaras Web site. The government has not confirmed the death.
Students now meet clandestinely and distribute newsletters by hand to avoid seizure by the universities' herasat, said Mehdi Arabshahi, a 28-year-old postgraduate student.
"We're in a state of war," he said. "On the one hand, they're trying to prevent us from protesting, on the other, the students go right ahead and hold gatherings and publish their newsletters."
Copyright 2018 The Associated Press. All rights reserved. This material may not be published, broadcast, rewritten or redistributed. We strive to uphold our values for every story published.