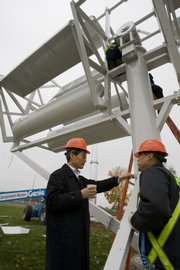 Overland Park — Looking like paddle wheels from an old-time riverboat atop an 83-foot steel pole, the aluminum contraption hovering near Interstate 435 and Roe Avenue in Overland Park could be modern sculpture.
That's what Chuck Seel, a spokesman for Iowa's state utilities board, first thought it was when he drove by. But he eventually realized it was a wind turbine, unlike any he had seen before. Its manufacturer says it's the first of its kind to be installed in North America.
The turbine is owned by the A.L. Huber company, known as a builder of churches, office buildings and retail centers. The company also is no stranger to art, having installed such Christo projects as Wrapped Walk Ways back in the 1970s in Loose Park in Kansas City, Mo.
Its wind turbine is part of the company's foray into renewable energy. Huber also plans to install solar panels to help power the company's headquarters and is completing an energy center to show anyone interested how it all works. A Web site also will provide such information as how much renewable energy is being provided by the company's wind turbine and solar cells.
"Renewable energy is certainly entering the radar screen," said August L. Huber III, the third generation of the family that has overseen the company.
Overcoming challenges
Huber and other companies know there are challenges. Especially in this economy, it can be tough to sell business owners on the relatively high initial costs of renewable power. Set against the relatively cheap coal-fired electricity in the Midwest, some renewables can take more than 20 years to pay off in lower fuel costs, although tax incentives are whittling that number down.
Don Greenwell, executive director of the Builders' Association in Kansas City, thinks the renewable industry is on the verge — perhaps within five years — of sharply lower costs for wind turbines and solar panels. That will spur more interest in businesses following Huber's lead.
The Huber company, more than a century old, is spending more than $250,000 on its renewable project. Some of that is going for upgrades to the exterior of its headquarters, including sunscreens, and work on the energy center to help educate the public. The wind turbine and associated costs account for about a third of that budget, and Huber expects it to take more than 20 years to recover those expenses. The headquarters also will have a recharging station for electric cars.
"I think it's important to walk the walk and live in a sustainable way," said Phil Thomas, president of A.L. Huber.
Making it work
Enter the Kansas City engineering firm Burns & McDonnell, which had worked with Huber on other projects. David Langford, an associate vice president of the firm, said they work with a lot of clients interested in sustainability projects.
One part of the process was connecting the Huber company with AeroNet, a South Korean company that has a partnership with AES Wind in San Francisco.
One of its offerings is the new design for wind turbines now found at Huber's headquarters.
Traditional propeller-style turbines work well in areas such as southwest Kansas that have strong winds. But wind is typically fickle in urban areas, and Kansas City is no exception.
The AES Windjet 5 turbine, with rotors that look like paddle wheels, is designed to produce power at slower wind speeds — starting at 6 mph. That also makes it quieter and less likely to kill birds or throw off ice that forms in the winter.
In the next few months, Huber also will install 24 electricity-generating solar panels on the south side of its offices.
The project includes equipment to convert the renewable power into current that will meet two-thirds of the 14,000-square-foot space's electricity needs.
That means Kansas City Power & Light will need to provide the other third. New state laws have helped make such partnerships easier. In Missouri, customers who at times generate more renewable power than they need can sell it to KCP&L;, and that will be possible in Kansas next year.
Copyright 2018 The Associated Press. All rights reserved. This material may not be published, broadcast, rewritten or redistributed. We strive to uphold our values for every story published.