The Lawrence-Douglas County Health Department will make the H1N1 vaccine available to all members of the public at its upcoming clinics.
The clinic schedule:
• Saturday, Dec. 12 — 9 a.m. to noon, Community Health Facility, 200 Maine.
• Tuesday, Dec. 15 — 9 a.m. to 11 a.m., Lecompton United Methodist Church, 302 Elmore, Lecompton.
• Tuesday, Dec. 15 — 6 p.m. to 8:30 p.m., Community Health Facility.
• Wednesday, Dec. 16 — 6 p.m. to 8:30 p.m., Community Health Facility.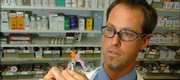 An outbreak of H1N1 Swine Flu was reported in Mexico in April 2009. By the end of May, it had spread across the U.S., with all 50 states reporting cases.
The clinics are for any Douglas County resident who wants protection from the virus. As part of the federal vaccination program, the H1N1 immunization will be available to the public at no charge.
Lisa Horn, health department spokeswoman, said the department has about 2,000 doses, with an additional 1,000 on order.
Also, two Lawrence pharmacies are scheduled to receive the H1N1 vaccine next week and will be offering them to the general public. They may charge an administrative fee. The pharmacies are Walgreens, 3421 W. Sixth St., and Sigler Pharmacy, 4951 W. 18th St.
Siglar Pharmacy will be charging $15 and expects to receive 100 doses. As of Friday morning, the pharmacy had a waiting list of 25 people. They will bill any insurance that covers the vaccine.
A Walgreens pharmacy spokeswoman said she didn't know how much they would charge or how many doses they would be getting.
The health department encourages children under 10 who have received their first dose of the H1N1 vaccine, to receive their second booster immunization at the upcoming clinics. A period of one month must have passed between the child's first and second doses.
Horn said more health department clinics in Eudora and Baldwin City are planned and will be announced at a later date.
For the latest H1N1 clinic schedule or to download a consent form, visit the health department's Web site.
Copyright 2018 The Lawrence Journal-World. All rights reserved. This material may not be published, broadcast, rewritten or redistributed. We strive to uphold our values for every story published.