Photo Gallery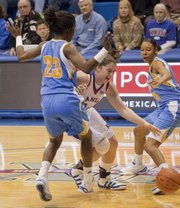 KU women's basketball vs. UCLA
KU defeated UCLA on Dec. 3, 2009, at Allen Fieldhouse.
If it were a fairy tale, it would have contained Cinderella's two sisters.
Kansas University's 54-49 women's basketball victory over UCLA on Thursday night in Allen Fieldhouse was a classic mirror-breaker.
"Even though it was ugly," said KU senior Danielle McCray, who nailed four critical free throws in the waning seconds, "we fought through it."
They needed to put up their dukes, too, after faltering twice during the Thanksgiving holiday.
"About the only goal we accomplished," KU coach Bonnie Henrickson said, "was to play poorly and win. We didn't do that in the Bahamas."
Those disappointing losses to No. 9 Xavier and to unranked TCU on Grand Bahama Island weren't easily forgotten by Henrickson or her players.
"We felt bad coming back, and we felt bad in practice," Henrickson said. "So this was huge after you walk around feeling crappy all week."
Echoed McCray, who finished with 15 points and eight rebounds — both team highs: "Everyone had a sick-gut feeling in their stomach since the trip."
During the first half, many of the 4,203 announced fans may have had a sick-gut feeling, too, while watching the bevy of bricks and the tapestry of turnovers that culminated with UCLA leading, 21-19, at the break.
The second half was an improvement, although not much.
With the lead changing hands five times after intermission, the definitive moment occurred with about 18 seconds remaining.
Kansas led 48-46 at the time, but Darxia Morris drilled a three-point goal to give UCLA an apparent one-point lead. But wait a minute.
Official Brian Hall had spotted an illegal screen by the Bruins' Christina Nzekwe, and he emphatically waved off the goal.
"Danielle was fighting through that screen like her life depended on it," Henrickson said. "I was staring right at her. It was a good call."
Moments later, as Kansas was in-bounding and still nursing that two-point lead, Nzekwe compounded her screen gaffe by grabbing Krysten Boogaard as she ran by.
"That's never happened to me before in college," said Boogaard, a 6-foot-5 junior, "but there's always a first time for everything."
Nzewke's intentional foul sent Boogaard to the foul line for two shots, and she nailed them both with :17.8 on the clock to give the Jayhawks a four-point cushion.
Equally as important, Kansas retained possession, and a mere second ticked off the clock before UCLA fouled McCray and she swished two more charities to give KU a 52-46 bulge.
McCray hit two more free tosses with just five ticks remaining, but Boogaard's foul shots were the critical ones, particularly because she clanked nine of 14 charities last Saturday against TCU.
"That was a once-in-a-lifetime thing in the Bahamas," Boogaard said. "When we got back, I went to the gym and shot free throws for an hour."
Boogaard was sharp at the line, but Aishah Sutherland, who went in leading the NCAA in field-goal percentage at 72 percent, misfired on 11 of her 13 shots.
"She struggled," Henrickson said. "I feel certain she won't lead the nation in field-goal percentage after today."
Nevertheless, Sutherland logged a team-high 37 minutes, grabbed five boards and blocked three shots while doing a solid defensive job inside.
Kansas (4-2) will play host to Northern Colorado at 1 p.m. Sunday.
Copyright 2018 The Lawrence Journal-World. All rights reserved. This material may not be published, broadcast, rewritten or redistributed. We strive to uphold our values for every story published.