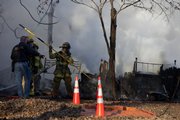 A fire Tuesday morning destroyed a cabin and partially damaged a second one at the private Lakeview Club northwest of Lawrence.
Wakarusa Township Fire Chief Chris Moore said there were no injuries because no one was home at the two cabins when the fire started.
A passerby on East 1150 Road called in the blaze before 8 a.m., and firefighters from several townships responded. Moore said flames were already through the roof of the cabin at 1081 N. 1816 Road, where the fire initially started. The fire was under control after about 20 minutes, he said.
Flames did spread to the south and damaged a shed as well as siding on a second cabin.
Moore said fire investigators were still looking into how the fire started.
"In all likelihood, this (cause) will go down as undetermined because it is completely gone," he said.
The fire department estimated the cabin that was destroyed sustained $100,000 in damages, which includes the contents inside the cabin, Moore said. The fire caused between $10,000 to $15,000 in damage to the exterior of the second cabin, he said.
In addition to Wakarusa Township, firefighters from Lecompton and Kanwaka townships, plus Lawrence Douglas County Fire Medical, provided assistance.
Copyright 2018 The Lawrence Journal-World. All rights reserved. This material may not be published, broadcast, rewritten or redistributed. We strive to uphold our values for every story published.