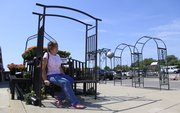 It happens to even the most skilled and tactful shoppers: You wait for just the right time to buy an item waiting weeks, even months for the price to come down just a little bit. Then, within days of your purchase, your coveted possession goes on sale.
So how do you avoid it? What are the best times to buy?
According to Erin Burt, editor at Kiplinger business and finance magazine, most of the big sales happen when demand is low, due to retailers trying to get more business or get rid of excess or old inventory. However, sales on certain items can happen during high-demand times as well.
"Stores want to lure people in to spend more money during high-traffic shopping periods," Burt says. "For instance, 15-cent notebooks during back-to-school season. Stores are banking on the fact that you're not just going to come in for the notebooks and leave but will buy other things for back-to-school at their store instead of going somewhere else."
One of the items that sees a drop in price in August and September is outdoor toys, such as swim gear, swing sets and various beach merchandise. Vendors are making room for fall and winter goods.
Another good buy for the end of the summer is school and office supplies. Everything from pens to staplers are being marked down.
"I just restocked my home office and my kids' craft drawer with printer paper, notebooks, pens, glue, paint, markers, crayons and more, for less than $10 total," Burt says.
Patio furniture also gets marked down at the end of summer with retailers trying to clear out their inventory.
"Right now, prices are the lowest they've been all year," says Scott Schmille, general manager of Westlake Ace Hardware, 601 Kasold Drive. "People are getting ready to make the fall changeover, so they're getting rid of summer patio inventory."
Another item that stores put on sale in September to make way for new inventory is appliances. Burt suggests looking into buying "scratch-and-dent models" which could save you a good chunk of change just because of a barely noticeable ding.
Burt also recommends stocking up on summer produce and possibly freezing, canning or drying it to be enjoyed later in the year. Some of the produce in season now includes corn, peaches, tomatoes and watermelon.
Now is also a good time to start purchasing airline tickets for holiday travel. According to Farecompare.com, the cheapest day of the week to fly is Wednesday, with the first flight of the day being the cheapest as well. Sunday tends to be the most expensive day to fly. The one Wednesday that will definitely not be the cheapest fare is the one before Thanksgiving, the busiest travel day of the year.
If you're afraid to fly, September is also the best time to buy a new car, as dealers are trying to drive old inventory off the lot to make more room. The bargains will vary from dealer to dealer, but Burt has one piece of advice for potential buyers: "Don't be afraid to haggle."
Copyright 2018 The Lawrence Journal-World. All rights reserved. This material may not be published, broadcast, rewritten or redistributed. We strive to uphold our values for every story published.