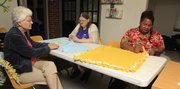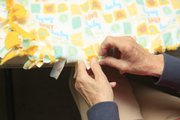 Get involved
To sponsor a blanket or to inquire about receiving blankets, call Dianne Huggins at 766-3357.
They're just little squares — 30 inches by 30 inches of pastel fleece, fringed on the sides — but they're covering a lot of ground in Lawrence.
The squares are used to make baby blankets for the women seeking aid at agencies such as the Birthright of Lawrence and the Pregnancy Care Center. But it's not just the new moms and babies who feel the benefits.
It's the women who make them, too.
Tying together two pieces of fabric into a swaddler for the babies are women who at times could use a blanket or two themselves: the women of the Lawrence Community Shelter.
Each month since April, the women in a monthly support group run by Mary Easterday, vice president of the shelter's board of directors, have made the blankets a couple at a time during their meetings. With the help of $15-per-blanket sponsors, the women are earning $10 for each blanket they make, giving them a chance to not only earn their own money but also help the littlest ones in need.
It's win-win, says La Tonya Johnson, a shelter guest who has been attending the meetings and making the blankets since the beginning.
"I enjoy it because it gives me a chance to just relax and just bond with other women, share things and you're doing something for someone else, and that's really satisfying," Johnson says. "And a lot of times it helps me to do something for somebody else to get my mind off my troubles. Anytime you have a part in making something, I think it's therapy."
The blanket program began with a simple suggestion from shelter guest Roxanne Hayden, who happens to have a background in quilting, embroidery and cross-stitch.
"We started this women's support group last November, and in January, I think, one of the ladies said, 'We'd really like to do something and make something while we're talking,'" Easterday says of Hayden. "One of our board members had suggested that we make these little tie blankets because they're so easy, you don't have to sew or use a machine, you just got them and the ladies tie them."
Since then, about 30 blankets have been pledged through donations, Easterday says. After each women's support group meeting, Easterday brings the blankets made during the hour-long session to Birthright or the Pregnancy Care Center and says that any organization that's aimed at helping infants can be a candidate for receiving the free blankets.
The blankets might even end up at the shelter, though the families who receive them must go to one of the designated agencies to receive them.
Even if she doesn't see her blankets in use, shelter guest Mary Green says she's thrilled by the thought of babies being kept warm by her handiwork.
"I'm kind of imaging what little baby is going to be getting my blanket and what they're going to be doing with it, gnawing on the little strings," Green says. "It's so exciting ... and then when you're depressed and angry with the situation we're going through right now — it's like, it's not even in the mind."
Copyright 2018 The Lawrence Journal-World. All rights reserved. This material may not be published, broadcast, rewritten or redistributed. We strive to uphold our values for every story published.