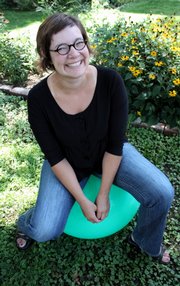 Births and babies are recurrent themes in Stefanie Olson's life. As a professional doula, she's helped more than 100 women through and beyond the birthing process.
Her 1972 birth in Superior, Neb., made unexpected headlines.
"My mother went into labor while playing the church organ," she says. "My parents went directly to the hospital (two blocks away) after church, and I was born shortly afterwards."
The local high school was celebrating Future Homemakers of America week, so the local newspaper ran her story and photograph. It crowned her "Little Miss FHA."
The family's farm fueled the young homemaker's interest in babies.
"We had many barn cats, and I used them as 'babies' when I played house with my brother and sister," Olson says. "In junior high, I set my mind on being an obstetrician, but my mother dissuaded me. I decided to become an art history professor instead."
She graduated from the University of Nebraska with a Bachelor of Arts in art history and French in 1994, worked for a year at a bank in Lincoln, enrolled at Kansas University and graduated with an Master of Arts in art history in 1997. She embarked on her doctorate, married Mark Olson, KU art history department's site curator for visual resources in 1998, and became pregnant with her first child.
"I wanted a 'home atmosphere' for the birth without the standard hospital interventions, and a friend recommended Topeka's Birth and Women's Center," she says. "During labor, I knew everyone who was there and trusted they would listen to my needs. ... They suggested things that helped me stay comfortable and relaxed. I never felt pressured, confused or out of options. I felt so empowered after the birth, I felt I could do anything."
Subsequent conversations with other women, her midwife and nurses encouraged Olson to consider using her teaching and birthing experiences to lead childbirth classes to help other women have better experiences.
"Doula" is a Greek word for "woman's servant." Today it refers to trained, experienced professionals (male and female) who provide continuous physical, emotional and informational support for mothers before, during and after birth.
"We don't perform medical tasks," Olson explains. "We're there to do whatever the woman needs throughout the birthing process."
Olson completed Doulas of North America (DONA) training and certification in 2004 and re-certification in 2007. She's self-employed and says some medical professionals were skeptical about her role when she first started. Now several doctors refer patients to her.
"The health care system is beginning to recognize the validity of trained doulas as part of the birth team," Olson says. "Some national hospitals have instituted doula programs to provide doula care for their patients. I hope this becomes a reality in Kansas."
Copyright 2018 The Lawrence Journal-World. All rights reserved. This material may not be published, broadcast, rewritten or redistributed. We strive to uphold our values for every story published.