Photo Gallery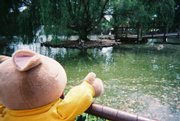 Arthur's adventures
For more than 10 years, Arthur the aardvark has shown up to work at the Lawrence Public Library, gladly accepting children's hugs in a way only a 4-foot-tall stuffed animal can.
"He gets more hugs and kisses than anyone else," says Joyce Steiner, youth services coordinator at the library. "He was looking rather droopy."
What's an aardvark to do when he's feeling a little physically beat? Take a vacation, of course.
That's exactly Arthur did this summer.
With a little money from Lawrence residents and library boosters John and Carol Nalbandian, Arthur headed to exotic Independence, Kan. There, he visited the home of former library staffer Dana Hart, who just happens to be a seamstress.
Arthur took a break from his usual days of appearing at the library and starring in children's books and a PBS series for some rejuvenation time. With help from Hart, he ended up with new clothes, shoes and clean fur.
He also gained some weight on the trip — who doesn't on vacation? — in the form of some new padding around his belly.
While in Independence, Arthur got to check out the town, including its zoo, Little House on the Prairie, miniature train and a nearby farm.
"He was ready for a vacation," Steiner says. "He looks much better. He looks very spiffy."
Arthur is scheduled to return to Lawrence just in time for the 10:30 a.m. Tuesday storytime at the library, 707 Vt.
"We want to welcome him home," Steiner says.
As of press time, Arthur was still traveling. His cell phone signal was spotty, so he was unavailable for comment.
Copyright 2018 The Lawrence Journal-World. All rights reserved. This material may not be published, broadcast, rewritten or redistributed. We strive to uphold our values for every story published.