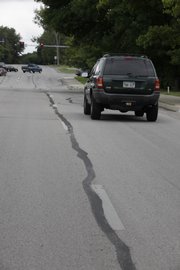 Calling on cracks
Drivers worried that lane markings are too faded, chipped or obscured are encouraged to report the specific locations to the city's Department of Public Works, at 832-3123.
"The public's out everywhere, every day," said Mark Thiel, assistant director of public works. "If they see something and are willing to call it in, that's great. It's extra eyes out there for us."
Thiel said that employees would check out each report and determine whether repainting would be necessary.
Mark Thiel knew it was coming, but even he found himself a little bit surprised once contract crews finished sealing cracks on the major North Second-North Third Street corridor in North Lawrence.
The liquid asphalt goop, now hardened, had obscured virtually all of the lines that normally help drivers find their way.
"When we crack-sealed it, we covered up all the lane markings," said Thiel, the city's assistant director of public works. "It was pretty bad. When it was done, I'm guessing 70 percent of the lane lines were gone."
The obfuscation — remedied within a week, by hiring a painting crew for $2,000 — is one of the unintended consequences of working to extend the lives of the city's aging streets.
During each of the past two years, the city has hired contractors to fill cracks on 100 lane miles of municipal roadways. This past summer's work included pourings in North Lawrence and along North Iowa Street, West Sixth Street and other stretches that in past years might have been repaved.
While traditional repaving projects always include money to replace the solid yellow lines, crosswalks and large turn arrows that get removed or covered up, crack-sealing work is different.
The process is more subtle: Liquid pavement is used to fill and seal cracks, typically less than an inch wide. Cracks regularly form along seams in the pavement, and often those seams are located away from lane markings.
But that's not always the case.
On North Second-North Third, the road surface's seams run right along the double-yellow line separating traffic heading north and south. Other markings also fell along seams.
As cracks formed, contractors had no choice but to pour their jet-black goop into the crevices. Such fluid regularly spilled over to form a better seal, but also covered up even more of what was left of the traffic-directing markings.
The $200,000 the city was spending on the crack-sealing work citywide didn't include a reserve for repainting the markings, so Thiel's department made special arrangements to get painting contractors out on the street within a week.
"We didn't restripe all of North Second and North Third — just the portion of it where it caused a problem," Thiel said.
His department evaluates all roads where cracks have been sealed, to see whether lane markings remain effective.
So far, he said, his employees hadn't located any other trouble spots.
"We feel like the lane markings that are there are sufficient and provide a safe travelway for the public," Thiel said.
David Woosley, the city's traffic/transportation engineer, said his division typically spent $4,000 a year to tackle problems associated with lane markings. The money is left over from his budget to repaint crosswalks and other markings on city streets.
Woosley isn't sure how much money will be available this year to repaint areas that have become less visible — either through crack-sealing, fading or chipping.
He just knows that as the city works to extend the lives of its streets, pavement will be expected to last longer before being replaced. And that means lane markings will remain to endure more traffic, more snowplows, more sun and more of other factors that can diminish their visibility.
"The markings wear out," he said. "We'll certainly try to do some (this year), but I doubt we'll have enough money to do everything in town that needs to be done. … You just have to prioritize."
Copyright 2018 The Lawrence Journal-World. All rights reserved. This material may not be published, broadcast, rewritten or redistributed. We strive to uphold our values for every story published.