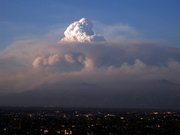 Los Angeles — Two firefighters were killed Sunday when their vehicle rolled down a mountainside amid the intense flames of a wildfire that threatened 12,000 homes. Gov. Arnold Schwarzenegger urged those in the fire's path to get out as the blazes rained ash on cars as far away as downtown Los Angeles, spreading in all directions in dry conditions.
Firefighters fixed their attention on the blaze's fast-moving eastern side, where flames lapped at the foot of the vital communications and astronomy center of Mount Wilson, and on the northwestern front, where the two firefighters were killed on Mount Gleason near the city of Acton.
"We ask for your understanding, for your patience as we move through this difficult time, and please, prayers for the families of our two brothers that we lost," Los Angeles County Deputy Fire Chief Mike Bryant said through tears at a Sunday night press conference.
Bryant said the men's families have been notified. He did not release their identities or give a cause for the crash, and officials at the press conference would take no questions on the deaths.
Television helicopter video on Sunday night showed an upside-down vehicle on the mountainside.
The blaze was only about 5 percent contained and had scorched 66 square miles in the Angeles National Forest. Mandatory evacuations were in effect for neighborhoods in Glendale, Pasadena and other cities and towns north of Los Angeles. Officials said air quality in parts of the foothills bordered on hazardous.
The fire, which broke out Wednesday afternoon, was the largest of many burning around California, including a new blaze in Placer County northeast of Sacramento that destroyed several homes and businesses.
The Southern California fire was expected during the night Sunday to reach the top of Mount Wilson, where 22 television stations, many radio stations and cell phone providers have their transmitters, said U.S. Forest Service Capt. Mike Dietrich.
Television stations said if the antennas burn, broadcast signals will be affected but satellite and cable transmissions will not be.
Two giant telescopes and several multimillion-dollar university programs are housed in the century-old Mount Wilson Observatory. The complex of buildings is both a historic landmark and a thriving modern center for astronomy.
At least 18 homes were destroyed in the fire and firefighters expected to find many more, authorities said.
While thousands have fled, two people who tried to ride out the firestorm in a backyard hot tub were burned. The pair in Big Tujunga Canyon, on the southwestern edge of the fire, "completely underestimated the fire" and the hot tub provided "no protection whatsoever," Sheriff's spokesman Steve Whitmore said Sunday.
The pair made their way to firefighters and were airlifted out by a sheriff's rescue helicopter. They received adequate notification to evacuate from deputies but decided to stay, Whitmore said.
Whitmore described their condition as "critical" but fire officials said one of the two was treated and released and the other remained hospitalized in stable condition. A third person was burned Saturday in an evacuation area along Highway 2 near Mount Wilson, officials said. Details of that injury were not immediately known.
"There were people that did not listen, and there were three people that got burned and got critically injured because they did not listen," Schwarzenegger said at a news conference at the fire command post.
For the third straight day, humidity was very low and temperatures were expected in the high 90s. Nearly 3,000 firefighters were battling the blaze.
Mandatory evacuations were also in effect for neighborhoods in Altadena and for the communities of Acton, La Canada Flintridge, La Crescenta and Big Tujunga Canyon.
There was some progress Sunday, as a small number of La Canada Flintridge residents living west of the Arroyo Seco were told they could go back to their homes.
But more evacuations were ordered in Acton in the Antelope Valley, and school districts in La Canada Flintridge and Glendale announced that classes were canceled today because of the fire.
Fixed-wing aircraft and a DC-10 jumbo jet were dropping water and flame retardant on the fire.
At the fire command post, Schwarzenegger praised firefighters for successfully protecting subdivisions in the foothills.
Copyright 2018 The Associated Press. All rights reserved. This material may not be published, broadcast, rewritten or redistributed. We strive to uphold our values for every story published.