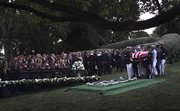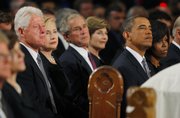 Washington — On the day he was carried to his final resting place, Sen. Edward M. Kennedy was remembered Saturday as a legislator of almost unequalled prowess, a political force who left a lasting imprint on the country, and a husband, father and patriarch whose private acts of love and devotion helped his star-crossed family endure tragedy and misfortune.
President Barack Obama led the mourners at a solemn Roman Catholic Mass attended by 1,500 people, including three former presidents, at the Basilica of Our Lady of Perpetual Hope in Boston, where the Kennedy family dynasty was born. A steady rain fell, adding an elegiac touch to a day already drenched in sorrow.
After a last flight to Washington, the Massachusetts senator who served for 47 years was laid to rest in gathering darkness near his two slain brothers, John F. Kennedy and Robert F. Kennedy, on sloping ground at Arlington National Cemetery.
Before the burial ceremony, the hearse carrying Kennedy stopped at the plaza on the East Front of the Capitol. There former Kennedy staffers, lawmakers, other congressional aides and members of the public were gathered to pay their respects.
As the crowd broke into applause, Kennedy's widow, Vicki, emerged, offering embraces. After a short prayer service and the singing of "America the Beautiful," the motorcade proceeded along Constitution Avenue to the cemetery.
Kennedy, D-Mass. died Tuesday night after being diagnosed with brain cancer more than a year ago. His death produced an outpouring of emotion and tributes from around the world that was captured eloquently on Saturday.
"We do not weep for him today because of the prestige attached to his name or his office," Obama told the friends, dignitaries and Kennedy family members seated in the majestic basilica in Boston. "We weep because we loved this kind and tender hero who persevered through pain and tragedy, not for the sake of ambition or vanity, not for wealth or power, but only for the people and the country he loved."
Before Obama's eulogy, Edward M. Kennedy Jr. and Patrick J. Kennedy offered poignant memories of their father that brought both tears and laughter from the audience.
Ted Kennedy Jr., who lost a leg to cancer when he was 12, recalled his father's strength and inspiration as he struggled with his physical handicap. His voice choked with emotion, he remembered a sledding expedition on a snowy day not long after his leg was amputated. After he had fallen, his father helped him climb an icy hill when he doubted his own physical capacity to do so.
"We're going to climb that hill together, even if it takes us all day," the younger Kennedy said his father told him. He added: "You see, my father taught me that even our most profound losses are survivable, and that it is what we do with that loss, our ability to transform it into a positive event, that is one of my father's greatest lessons."
Patrick Kennedy, 42, an eight-term House member from Rhode Island, remembered how his father would sit by his bedside, applying a cold, wet towel to his forehead to provide relief from the pain of headaches induced by asthma medication. "He remained to me a magical figure," he said.
Inside the church, a remarkable collection of people gathered. They included former president Bill Clinton and Hillary Clinton; former president George W. Bush and his wife, Laura; former president Jimmy Carter and his wife, Rosalynn; and Vice President Joe Biden and his wife, Jill.
The Mass included music from cellist Yo-Yo Ma, tenor Placido Domingo, the Tanglewood Festival Chorus and mezzo-soprano Susan Graham, who gave a haunting rendition of "Ave Maria."
Copyright 2017 The Lawrence Journal-World. All rights reserved. This material may not be published, broadcast, rewritten or redistributed. We strive to uphold our values for every story published.