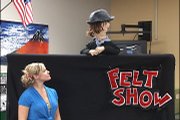 Editor's note: Reporter Mark Boyle takes us behind the scenes of news stories in the area. This week, he catches up with one of the most outrageous and zany productions in the area. This live variety show began as a simple puppet show called "The Felt Show" several years ago and has now turned into a variety show featuring some of the area's most interesting entertainment for adults.
It's simply described by its creators as a "very different" type of entertainment.
A couple of Lawrence residents started "The Felt Show" nearly five years ago, and today their puppet act has become a fully functional variety show.
"We usually have about eight acts," said Jeff Welch, producer of Feltapalooza. "We've had a saw player, guitar players, singer/songwriters, a harp player and this coming up show, we're going to have a belly dancer."
Feltapalooza, which has played at the Bottleneck and the Granada in downtown Lawrence and other venues around town, always features different entertainment. Any act is welcome to audition.
It is rare to ever see the same act two shows in a row. An exception is "Hank," who is one of the show's main characters. He's a 1-foot-tall puppet that performs in each show, and he says the show is one-of-a-kind.
"What we try to do is come up with original material for almost every show and to really showcase as much talent as we can so we try to make people expand their horizons," said Hank, who is played by the show's co-creator Paul Santos.
"The Felt Show" is sprinkled in throughout each Feltapalooza performance.
"I love working with puppets; there are absolutely no boundaries for reality," said Emily Herrman, a Feltapalooza producer. "The puppets still have a cartoon aspect to them so they have their own world that they live in but because they are physical, they're brought into the human realm as well."
Solo musicians, comedians and belly dancers alike argue that there isn't a good regular venue for their public performances. Feltapalooza gives these performers something other than the occasional open mic night to sharpen their skills.
"It's mostly just a learning experience," said Mikey Pokorny, a comedian featured in a show last month. "It's basically practice, just a way to refine your craft and get it down and see what works and what doesn't and continue on."
The show is outrageous adult comedy and seems to be growing with every performance. After watching one show myself, I can guarantee that Lawrence residents will be hard-pressed to find anything else around the region as unique as Feltapalooza.
"This is a great opportunity," said Jana Rittenhouse, who is a local belly dancer. "There are a lot of interesting people in Lawrence and a lot of talent that you wouldn't expect, so anytime there's a variety show where we can all get under one roof it's a good thing."
To audition for the show or learn more about upcoming show dates, log onto thefeltshow.com.
Copyright 2018 The Lawrence Journal-World. All rights reserved. This material may not be published, broadcast, rewritten or redistributed. We strive to uphold our values for every story published.