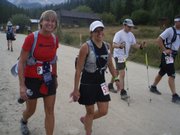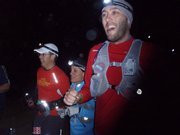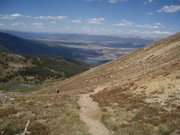 Editor's note: Lawrence resident Gary Henry, 53, was one of several members of the Lawrence Trail Hawks who ran the 100-mile Leadville Trail 100 last weekend in Colorado. Here is his account from the race, his fifth finish in nine ultra-marathon attempts.
With a few other members of my running club, the Lawrence Trail Hawks, I attempted to run a hundred-mile trail race in the Rocky Mountains, Aug. 22-23.
The race begins at 4 a.m. in downtown Leadville, Colo. Runners hoof 50 miles of dusty dirt road, rocky, rooty trail and two mountain passes, then return — within 30 hours.
The halfway point is Winfield, a town so small it makes Stull look like Metropolis.
Aid stations about every 10 miles, stocked with food, drink and volunteers, minister to the runners. Runners must leave each station by certain times —called "cut-offs" — or they're pulled from the race.
We left our turf, the Clinton Lake North Shore Trails and the Kansas River "Sandrat" Trails to test ourselves at Leadville. Finishing this race is as glorious as winning shorter races.
Some left up to two weeks before the race to acclimate.
Six Hawks ran. Eight more came to take care of us at aid stations, and run short distances of 16 to 25 miles with us as "pacers."
You can have a pacer for any or all of the stretches between aid stations — after the first 50 miles.
The start
Nearly 500 hopefuls waited nervously at the starting line. We jammed Sixth Street curb-to-curb. At the traditional shotgun blast, the pack stretched forward like some huge multi-legged amoeba, headlamps and flashlights knifing open the 40-degree darkness.
At first, I ran with fellow Trail Hawks Coleen Voeks, Nick Lang and Willie Lambert. Soon we settled into our own paces, and I began my own race.
Dawn
Ten miles in, red morning light spilled across Turquoise Lake. The mountains glowed. I couldn't look. Looking away from the rocky track even for a second is dangerous.
As if in proof, the big brunette woman in front of me tripped and rolled off the trail onto rocks. I skidded to a halt. The runners behind me leapt around and kept going.
"You OK?"
She got up slowly.
"I hit my head," she said. "I hurt my chest."
The fall had smashed the heavy-duty sports watch on her wrist.
"I'm OK," she said, stepping on the trail. "Go on. Thanks for stopping."
I got her number, 320, and rejoined the river of runners. I ran the last three miles to the aid station faster than planned and reported what happened.
"She said she hit her head," I told the official. "That's what worried me. Number 320."
"OK, thanks," he said. "We'll take care of her."
I got water and got out, 44 minutes before cutoff.
Day
I was about 38 miles in, around a thousand feet above the Twin Lakes, and the town and aid station named for them.
I'd made great time, for me, even passing a runner or two. Then, no course markers; no runners. I broke into a clearing. The lakes sparkled below, and the great green peaks beyond scraped the sky.
There was no doubt. I'd gone way off course!
I felt sick. Backtracking would eat the time I'd banked — then feed me to the cutoff as I labored up the next stage — a three-mile, 3,600-foot climb up Hope Pass.
As I backtracked, three runners rolled around the bend. We compared notes. Consensus was -to try to regain the course via another trail.
I had doubts, but went along. We didn't regain the course. We invaded private property. We lost more time.
Finally, we dropped into Twin Lakes, about a quarter-mile from the aid station. I was sure we'd be DQed. Accident or not, we'd cut the course.
I told the official what happened. She informed me I had run an extra mile, was still in the race and better get going.
I'd lost 45 minutes, so I complied.
Twilight
Got over Hope Pass and made Winfield barely an hour before cutoff.
At the aid station, Trail Hawks Karen Lambert, Julie Toft and Deb Johnson made me sit, eat and drink while they refilled my hydration pack with water, food and sports drink.
They were a NASCAR crew. In minutes, they squared me away and kicked me out, with the cutoff still 55 minutes away.
Leaving, I saw Nick walk in. He moved slow and looked rough. But I'd seen Nick in worse shape, and he doesn't give up.
I headed down Winfield Road for another traverse of Hope Pass, just after 5 p.m.
It was still light when I crested the pass. Got water for descending from the aid station. Llamas had carried everything up there.
I bolted down.
Night
I breezed into Twin Lakes, 39.5 miles to go, by flashlight, an hour ahead of cutoff.
"Want a pacer?"
It was thin, tall Darin Schneidewind, there to pace Rick Mayo, one of the fastest and strongest of the Trail Hawks, and a veteran hundred-miler.
"Rick dropped at Winfield," Darin said. "If you need a pacer, I'm ready."
"Sure!" I told him, glad to have company.
I checked in and found Mark Allan, a local friend crewing for me, and pacing the last 23.5 miles.
I ate while Darin and Mark refilled my hydration pack with water and food.
Then Darin and I climbed up a thousand feet on steep dirt roads to hit the Colorado Trail.
Night narrowed the world to small pools of light on rocks and gravel. Trees looked like pale ghosts of themselves guarding black mysteries beyond.
We passed and were passed. We walked up the hills, ran down the hills. Where the canopy opened, we saw huge stars.
Mark met us around 1:45 a.m., about 77 miles in. Darin checked out, and Mark and I headed up the horribly rocky, gullied dirt road to Sugarloaf Pass, 11,200 feet.
I wondered where the other Hawks were, and if they had survived. I knew Rick dropped. Mostly I concentrated on dragging one blistered foot after the other up the endless hill.
"We'll make it to the May Queen aid station (86.5 miles) by 5 a.m.," Mark assured me.
But he was wrong. We trotted in about 5:05.
Last Lap
While I got re-supplied for the last 13.5 miles, Mark grabbed two burritos from the buffet. My stomach felt iffy, but I choked down a PBJ square and some soda.
As we left, two runners blazed by with a quick greeting. It was Nick, paced by his significant other, Laurie Euler! We ran together for a while. Nick told how his wheels came almost off at Winfield, but the crew put him back together.
He told how pacers Ben Reeves, Shane Jones and even his dad, Chris Lang, got him going and helped him recover.
That was all he told us, because with about 7 miles left, I slowed while Nick and Laurie went ahead.
I was pooped!
I walked, shuffled, limped. There were plenty of others going along with us for those last miles. You could tell the runners — we moved like extras in "Night of the Living Dead."
We turned onto Sixth Street. There, about a half-mile away, the big red banner that read "Finish" fluttered over a noisy crowd.
Some ran, but I was run-out. I was maybe an eighth of a mile from the end when I heard familiar voices — Trail Hawks!
"Let's hear 'Rocky,' Gary!" they yelled. I've bellowed out the theme from "Rocky" at some — OK, all — my ultramarathon finishes.
I let her rip. "Dah dah dah ..." And a funny thing happened. As I sang it, the tired legs went to a trot, then a canter, and then a toe-top sprint — at least it felt like a sprint.
My performance caught the crowd's attention. Everyone cheered as I blasted across the line and smacked into race director Ken Chlouber. He caught me as my knees buckled, and kept me upright. Then Mark helped me out of the way as more finishers barreled in, and the announcer said, "That was Gary Henry, number 552, Lawrence, Kansas with a most dramatic finish!"
"Finish" was the word that caught my ear.
Copyright 2018 The Lawrence Journal-World. All rights reserved. This material may not be published, broadcast, rewritten or redistributed. We strive to uphold our values for every story published.