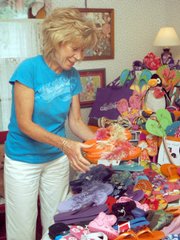 Newton — Kay Self thought she was doing a good deed when she decided to pack about 20 pairs of flip-flops into her luggage to take on a mission trip to Haiti.
You see, flips are in high demand and in short supply on the island country of Haiti. The economic situation is so desperate, when one person gets a pair of flip-flops, they keep one shoe and give the other to a neighbor, Self's mission trip leader told her.
Self decided 20 pairs might not be enough, so she enlisted some friends to put grocery bags in their workplaces asking for flip-flop donations.
She also placed a bag at church. She pinned onto the bags a sign with a penguin similar to the one in the movie "Happy Feet," wearing flip-flops and carrying a Haitian flag.
A small pile of 20 flip-flops has now grown into a mound of more than 500 pairs of shoes.
"I would like to thank all the people who supported me in this," she said. "I never thought 20 pairs of flip-flops would end like this. I don't know if people know what this means to me."
Variety of specimens
The bags overflowing with shoes, stacked in Self's spare bedroom for the time being, run the gamut.
There are jeweled flip-flops, fuzzy flip-flops, baby flip-flops, flip-flops for boys and girls and men and women. One pair has a map of the United States on the them.
"I don't know where they all have come from," she said. "I would come home at night, and there would be flip-flops on my porch."
Self picked up a pair of orange flip-flops and ran her fingers though the orange and pink and yellow yarn that covered the straps.
"It makes me so happy thinking about people picking out all these pairs of flip-flops, knowing the only thing they will get out of it is making someone else happy," she said.
The flip-flop drive has had some special meaning for Self, who is a nurse at Good Shepherd hospital in Wichita. She has suffered from a congenital problem with her feet since she was a teenager. She has endured multiple surgeries on her feet, until finally she had to have bones removed from two of her toes.
As a result, Self wears flip-flops most of the time. She calls them her signature shoe.
Because of the surgeries, Self's doctor told her when she was 30 that by the time she was 50, she would be in a wheelchair. Self is a little self-conscious about her age, but she has long since passed that milestone and is still walking and active.
"I want to run on the hills of Haiti in celebration of my life," she said.
Mission trip
Self will travel to Haiti with missionaries Bill and Marilyn Fair, who are sponsored by Newton Christian Church. Church members Feisal and Ellen Jahay and Wayne Brenneman also will make the trip.
Self will be practicing nursing at open air clinics, as well as sharing Biblical lessons. Self has been a longtime teacher in Newton's Weekday Bible School.
The men on the trip will work on building a multi-purpose building that will be used for a church in the community they will be visiting.
Each member of the group only is allowed two pieces of checked luggage so Self is trying to figure out how to ship her deluge of flip-flops to Haiti.
"I have to laugh, because God must be laughing at me," Self said.
Thanks to the lifting of an embargo that limited the amount of extra baggage a person can ship on a domestic flight, Self and her cohorts will be able to get the mountain of flip-flips to Haiti, but it will cost $100 per 20-pound bag to ship the shoes.
A fund-raiser is expected to raise money for flip-flop shipping and to pay for a basketball equipment and court to be built adjacent to the new church.
The group leaves Sept. 9 and will return Sept. 26.
With her bags brimming with a rainbow menagerie of flips-flops, Self said she also will take a scripture a friend gave her when she was in the hospital after one of the operations on her feet.
"How beautiful on the mountains are the feet of those who bring the good news, who proclaim peace, who bring good tidings, who proclaim salvation and who say to you, 'Your God reigns!'" Isaiah 52:7.
Copyright 2018 The Lawrence Journal-World. All rights reserved. This material may not be published, broadcast, rewritten or redistributed. We strive to uphold our values for every story published.