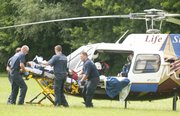 A 46-year-old man was flown to a Kansas City hospital Friday afternoon after he was injured because of an apparent fall near 23rd and Harper streets.
At noon, a Lawrence police officer was in the area when someone pointed out a man who had fallen to the ground and was in distress outside a convenience store at the northeast corner of the intersection, police spokeswoman Kim Murphree said.
Medics called for a LifeStar helicopter ambulance at the scene. It transported him to Kansas University Hospital in Kansas City, Kan. Murphree said police do not suspect foul play.
The man's name and hometown were not released Friday.
Copyright 2018 The Lawrence Journal-World. All rights reserved. This material may not be published, broadcast, rewritten or redistributed. We strive to uphold our values for every story published.