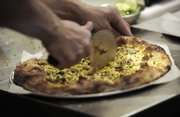 Chicago — In the deep-dish city, thin seems to be in.
The pizza joints that for decades have given Chicago its heavyweight vibe are finding themselves pushed around by the culinary equivalent of a pencil-neck geek: gourmet restaurants with trendy names like "Piece" or "Crust" serving up sometimes cracker-thin pizzas.
One after another, these interlopers — pushing a style of pizza already popular elsewhere in the country — are popping up around Chicago, pulling from their ovens skinny pizzas sprinkled with everything from goat cheese to white corn to cauliflower.
In recent years, some two dozen such pizzerias have opened, with more on the way. Meanwhile, other restaurants — such as Roof, a lounge atop a trendy hotel — are making sure thin pizzas figure prominently on their menus.
And it's not just the pizzas that look different. The new shops generally ditch pizzeria staples, such as checkered table cloths and Chianti-bottle candles. They don't always act like pizzerias either, sometimes insisting diners bring their own beer or wine or refusing to deliver (claiming even a short car trip would ruin the flavor).
And they certainly don't sell them frozen, the way some deep-dish places do. One won't even take phone orders because such a work of art should not have to rest for even a few minutes before being experienced.
"A pizza is always dying," explained Jonathan Goldsmith, who opened Spacca Napoli in 2006, and who neither delivers nor takes phone orders. "As soon as it is out of the oven it is meant to be eaten."
Locals are eating it up, even putting up with the same kind of two-hour waits deep-dish restaurants such as Pizzeria Uno are famous for.
"People are more experimental today than ever before," Rich Melman, a prominent Chicago restaurateur who recently added two thin-crust pizzerias to his empire, said of locals buying in to thin-crust pies.
Outsiders are taking notice, too. In June, GQ magazine named the thin-crust mortadella pizza from Chicago's Great Lake pizzeria to the top spot of its roundup of the nation's top 25 pizzas. No other Chicago pizza made the list, and no deep-dish pizzas from anywhere made it.
"It's a terribly flawed concept in pizza," said Alan Richman, who rated the pizzas for the magazine. "It's more like a casserole, a Sunday dinner... I'm astounded by deep-dish pizza, but it gives you no aspect of a pizza eating experience. It isn't eating pizza."
Which isn't to say deep-dish emporiums are in any danger. Throngs of tourists (in summer) and locals (in winter) still line up outside the great slingers of deep dish. Seasoned eaters know to skip lunch, maybe even breakfast, before bellying up for the big pizzas.
"People are still looking to have an original experience, one they can't find in another city," said April McRaven, the general manager of Pizzeria Uno, which along with Pizzeria Due, Gino's East and Lou Malnati's head the list of still-popular deep-dish restaurants.
People like Mike Lemieux, a 30-year-old recreation supervisor from Grand Rapids, Mich., has made sure he had deep-dish pizza during each of his four visits to the city.
"When we come to Chicago we know we're having deep dish," Lemieux said during his most recent visit. "It's not the same anywhere else."
But there is something going on that is opening the door for the nontraditional Chicago pizzerias, said Melman.
Perhaps people are growing a bit weary of Chicago's standard, as hometown President Barack Obama himself seemed to suggest when this spring he invited the owners of a — Gasp! — St. Louis restaurant to recreate their pizza in White House ovens.
"It's not exciting any more," Jeff Ruby, who writes about food for Chicago magazine, said of deep-dish pizza. "It's a tourist thing."
Copyright 2018 The Associated Press. All rights reserved. This material may not be published, broadcast, rewritten or redistributed. We strive to uphold our values for every story published.