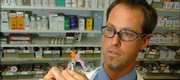 An outbreak of H1N1 Swine Flu was reported in Mexico in April 2009. By the end of May, it had spread across the U.S., with all 50 states reporting cases.
Cases of suspected H1N1 flu at Kansas University had grown to 284 as of Friday afternoon, but the number of new cases was down for the second day in a row.
Todd Cohen, a university spokesman, said the number still represented less than 1 percent of the student body, and there were no planned cancellations because of the spreading flu.
Meantime, notes have been posted across campus to remind people to wash their hands.
"There's probably 100 percent awareness" of flu prevention efforts, he said. "As the semester progresses, we'll probably have fewer cases than we would have had otherwise."
Lisa Horn, spokeswoman for the Lawrence-Douglas County Health Department, said that the organization has met with KU, along with Haskell and Baker universities to deliver prevention recommendations from the Centers for Disease Control.
KU has been following the recommendations, with the isolation of students who develop flu-like symptoms, Horn said.
The guidelines call for additional measures if necessary, such as suspension of classes, and increasing the distance between students by moving desks farther apart or encouraging distance learning. Those recommendations, however, are only called for if the situation worsens beyond the severity seen so far this year.
Cohen said there were no plans for cancellations or suspension of classes, and said the university continues to monitor the daily number of students reporting flu-like symptoms.
When H1N1 vaccines are available — likely in October, Horn said — most students will be among the initial priority groups to receive the vaccine, which will be available from the health department and at Watkins Community Health Center.
She said the department continues to encourage people to take preventative measures, like coughing into their sleeves, frequently washing hands and staying home from work or school if they become ill.
Copyright 2018 The Lawrence Journal-World. All rights reserved. This material may not be published, broadcast, rewritten or redistributed. We strive to uphold our values for every story published.