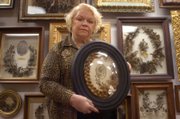 Looking for a quick day trip to serve as a last hurrah for summer?
Here are some suggestions in the Kansas City area, provided by the Kansas City Convention & Visitors Association:
• Leila's Hair Museum, 1333 S. Noland Road, Independence, Mo. — This museum is believed to be the only museum of its kind in the world. There are 159 wreaths and more than 2,000 pieces of jewelry made from or containing human hair.
• Glore Psychiatric Museum, 3406 Frederick Ave., St. Joseph, Mo. — This eccentric museum is in a building that once housed the clinic of the former State Lunatic Asylum #2. The museum illustrates the history of the treatment of mental illness through full-sized replicas, interactive displays, audio-visuals, documents and artifacts such as dousing tanks, cages and straightjackets. Also on display is a collection of more than 1,400 metal objects, such as nails and safety pins, which were swallowed by a single patient.
• Airline History Museum, 201 NW Lou Holland Drive, Kansas City, Mo. — This museum takes a look at the golden age of air travel. The most unusual objects on display are the one-size-fits-all paper dresses worn by TWA flight attendants during the airline's Foreign Accent Service campaign in 1968. Another display showcases the small packages of complimentary cigarettes that were given to every passenger on board the plane.
• C.W. Parker Carousel Museum, 320 S. Esplanade St., Leavenworth — It's not all about carousels at this museum. A quirky exhibit upstairs takes a look into the world of old carnivals and sideshows. Among the array of objects on display are two shrunken heads, a Fiji Island Mermaid and a petrified human hand.
• Arabia Steamboat Museum, 400 Grand Boulevard, Kansas City, Mo. — This museum, located in the River Market, displays the artifacts of the steamboat Arabia when it sunk in 1856. One of the exhibits shows jars of fruits and vegetables, which were sealed so well that when one of the excavators sampled a 132-year-old pickle, he said it tasted perfectly fine.
• Patee House Museum, 1202 Penn St., St. Joseph, Mo. — This eccentric museum of American history features a hodgepodge of odd artifacts and memorabilia through two floors of exhibits. Items on display include a 1920s gas station, the dentist office of Walter Cronkite's father, a collection of spittoons, an 1880 general store, a horse-drawn hearse and a 1,050-pound ball of string.
• Jesse James Home, 1202 Penn St., St. Joseph, Mo. — Legendary outlaw Jesse James was killed in this house on April 3, 1882, at the age of 34. Fellow gang member Robert Ford shot James to collect a $10,000 reward, creating the legendary bullet hole. Now behind a protective frame, the bullet hole is now nearly a foot wide after years of being picked at by tourists.
• Toy & Miniature Museum, 5235 Oak St., Kansas City, Mo. — Children and adults are equally intrigued by the unique objects in this museum. The most quirky display features a pair of fully-dressed fleas that can be viewed under a microscope. Also visible under magnification are the world's smallest marbles and a pair of miniature dueling pistols only 1-inch long that actually function in the 1/12th scale.
• Puppetry Arts Institute, 11025 E. Winner Road, Independence, Mo. — This attraction houses several unusual puppets. The puppet maker that created the institute's Harry S. Truman marionette used his own hair on the puppet's head because he could not find any artificial hair that he liked. The Puppetry Arts Institute also displays the puppet, Sister Mary Annette, which is featured in all six of the off-Broadway Nunsense plays.
• 1950s All-Electric House, 6305 Lackman Road, Shawnee — The All-Electric House, located inside the Johnson County Museum of History, showcases the futuristic, up-and-coming technology of the 1950s. The house has hidden televisions, electric curtain openers and trendy appliances. The Kansas City Power & Light company built the house in 1945 to demonstrate a new device: "the year-round air conditioner … known as the heat pump."
Copyright 2018 The Lawrence Journal-World. All rights reserved. This material may not be published, broadcast, rewritten or redistributed. We strive to uphold our values for every story published.