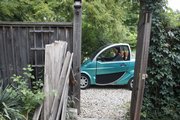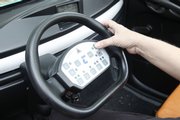 Sure, their glorified golf cart can barely speed down Lawrence streets at 25 mph, seats only two comfortably and can hardly accommodate a container of tomatoes in its violin-sized trunk.
Then again, it costs a mere quarter to fill up.
"It's pretty inexpensive," said Bob Brown, new, proud owner of a Teener neighborhood electric vehicle. "Not quite as good as a bicycle, but it's pretty good."
The Teener — one of 26 known to be in the United States and among only 250 ever made by its now-bankrupt Italian manufacturer — is turning heads in Lawrence as it motors silently down side streets on trips to Dillons, church and the occasional visit to the Lawrence Farmers' Market.
The 8-foot-long Teener is what's known as a neighborhood electric vehicle, running on small wheels and staying limited to roads where speed limits don't exceed 35 mph.
Such roadsters aren't a threat to replace the internal combustion engine or any of the growing number of hybrids hitting the streets these days, said Larry Tuttle, a leader with the Electric Auto Association.
But the thinking behind the powerful technology — simple engines, relatively few moving parts, exceedingly low operating costs — are gaining popularity as the country aims to wean its reliance on fossil fuels and look forward to pollution-free travel.
All while saving plenty of green, aka dollars.
"There's not enough idealists who want to save the planet who want to sacrifice the common features you find in cars, like being able to jump in your car and drive to California," Tuttle said, at home in Ann Arbor, Mich. "I don't think there are enough idealists out there willing to do that."
Financial conservation
But as technology advances, performance improves and people start saving money — real money — on fuel and maintenance costs, he said, the acceptance rate will accelerate.
"After a few years of people buying these, you'll find out your neighbor is saving $1,500, $1,800 a year," he said. "It's not going to be widely accepted until it's demonstrated that you're saving money."
That's part of what Brown and his wife, Cordelia, are trying to do.
They've had their green Teener for a few weeks now, having bought the vehicle from a man who lives at Lake Quivira. So far they've charged it up once — overnight, just as the manual says — and have taken to cruising the streets of Lawrence, gauging performance.
By Cordelia's calculations, the Teener costs about 2 cents per mile to operate — less than a quarter to power up for more than 80 miles of travel on a single overnight charge.
"I figured it out mathematically, and it gets about 280 miles per gallon, if you compare it to gasoline," she said. "So that's not too bad."
Power for the future
Bruce Wood, president and CEO of ePower Synergies Inc., said the Teener was advanced among neighborhood electric vehicles, capable of reaching speeds of up to 45 mph in Europe. He bought the rights to manufacture the vehicles in the United States, but the market, at least so far, hasn't materialized.
He's hoping the federal government will permit such vehicles to speed up to 35 mph, to match the speed limit generally posted on neighborhood streets.
"That would make them a lot more comfortable," Wood said.
Chris Depcik, an assistant professor of mechanical engineering at Kansas University, said electric vehicles likely would continue to rise in popularity if, as expected, technology advances and prices decline. But he doesn't expect them to displace traditional internal combustion engines or hybrid technology.
"There's going to be a vehicle for everyone, depending on what you want," said Depcik, who has worked with auto companies and now leads KU engineering students on their EcoHawks project, building a hybrid vehicle. "My commute to work is five miles. It makes complete sense for me to get an electric vehicle. For someone who commutes to Kansas City and back, it's possibly not.
"To say that this is the power plant of the future is not the way to go — unless something wins out, which I don't see happening anytime soon."
So, for now, the Browns are experimenting. They picked up the vehicle for $2,900, and are enjoying the surprised, inquisitive and otherwise inspired looks their Teener is generating once they back it out of the garage.
It's functional, Cordelia Brown says. And environmentally friendly. And — perhaps most of all — it's fun, an assertion confirmed last week as she was tooling across Massachusetts Street.
"This SUV of young college men drove by, and they were leaning out the window and saying, 'RIGHT ON!'" she said, with a laugh. "Only in Lawrence, I guess. … Green is good."
Copyright 2018 The Lawrence Journal-World. All rights reserved. This material may not be published, broadcast, rewritten or redistributed. We strive to uphold our values for every story published.