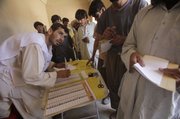 Kabul — Millions of Afghans defied threats Thursday to cast ballots in the country's second national elections since Taliban rule, but turnout appeared weaker this time because of continuing violence, fear and disenchantment. In much of the Taliban's southern strongholds, many people did not dare to vote, bolstering the hopes of President Hamid Karzai's chief rival.
At least 26 people were killed in election-related violence, fewer than had been feared.
Officials began counting millions of ballots as soon as the polls closed at 5 p.m. after a one-hour extension. First preliminary results weren't expected for several days, and some major candidates were already alleging fraud.
A top election official, Zekria Barakzai, told The Associated Press that he estimated 40 to 50 percent of the country's 15 million registered voters cast ballots — far lower than the 70 percent who voted in the presidential election in 2004.
Nevertheless, many Afghans did vote, some at great risk to their lives. Many waited until midday to see whether the Taliban would carry through with threats to attack polling stations. Some proudly showed off the ink on their index fingers to prove they had voted.
"I know the security situation of my country is not good, but I have made my decision to come and cast my vote anyway," said Shukran Ahmad, 32, said as he waited at a polling center in western Kabul. "I wanted to be the first person to vote today in this polling center."
Authorities managed to open 6,202 polling centers — 95 percent of those planned, according to Barakzai.
The top U.N. official in the country, Kai Eide, said the election "seems to be working well," and NATO Secretary-General Anders Fogh Rasmussen hailed the balloting as "testimony to the determination of the Afghan people to build democracy."
International officials had predicted an imperfect election — Afghanistan's second-ever direct presidential vote — but expressed hope that Afghans would accept the outcome as legitimate, a key component of President Barack Obama's strategy for the war.
A low turnout and allegations of fraud could cast doubt over the legitimacy of the vote and raise fears that followers of defeated candidates may take to the streets like opposition supporters in neighboring Iran following June's contentious presidential ballot there.
Hours after the polls closed, the deputy campaign manager for Karzai's top challenger, former Foreign Minister Abdullah Abdullah, was alleging "very large scale" fraud in at least three of the country's 34 provinces where Karzai had been expected to run well but where turnout appeared low.
"The ballot boxes were stuffed and now we're investigating to see how big it was," Saleh Mohammad Registani told the AP. "We're going to work under electoral law. Overall, we are satisfied with the election, and we are optimistic about the result. But so far we don't know about the extent of the fraud."
Another presidential candidate, Ramazan Bashardost, who had 10 percent support in pre-election polls, said he washed off the supposedly indelible ink used to identify people who had already voted. He called on authorities to "immediately stop this election."
Fraud allegations aside, a low turnout in the ethnic Pashtun south would harm Karzai's re-election chances and boost the standing of Abdullah, who draws his strength from the Tajik minority.
Turnout in the Tajik north appeared to be stronger, a good sign for Abdullah.
Copyright 2018 The Associated Press. All rights reserved. This material may not be published, broadcast, rewritten or redistributed. We strive to uphold our values for every story published.