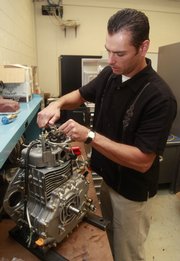 For a man who's big into energy, Chris Depcik is remarkably laid-back.
Even at his most animated — discussing his program emphasizing internal combustion engines, energy and the environment, for example — he never loses his air of easy assurance.
"I'm inherently an environmental engineer," the assistant professor of mechanical engineering said.
Depcik is among the more than 50 newly hired faculty members who in May completed their first academic year at KU. As varied as their backgrounds and fields of study are the reasons they came to KU to pursue their careers.
Depcik, despite his claim to be an environmental engineer, also is a teacher. He's faculty sponsor of the EcoHawks, a group of engineering students who research ways to lessen the environmental effect of vehicles.
Depcik is extremely proud of the students' conversion of a 1974 Super Volkswagen Beetle into a hybrid powered by biodiesel.
"It was my idea, but they were the ones who did all the hard work," he said.
Charles Sprouse III, graduate student, was the EcoHawks' driveline team leader last year. He will be a project adviser this year.
He describes Depcik as a tireless worker, with a self-deprecating sense of humor.
"I am always surprised to hear him make fun of himself," he said.
The best thing about his job, Depcik said, is interacting with students — something he never got to do when working in Detroit's automotive industry at the University of Michigan.
His coming here in January 2008 with his wife, Jennifer Depcik, allowed him to start a new program in his specialty area: internal combustion engines, energy and the environment.
The collaborative atmosphere particularly impressed him about KU. At other universities, he said, faculty can feel isolated, as if they have to prove themselves by going their own way or competing with colleagues for funding.
"What I've noticed here about KU is that faculty are more than willing to sit down and have a meeting and think of a joint program or joint collaboration," he said. "I can't imagine that at other places."
This year, Depcik is going to emphasize small-scale testing of alternative energy concepts to his students — such as making a car chassis out of recycled pop bottles.
He's also giving them freedom to fail, so long as they give what he calls an educated try.
"I think sometimes, people are afraid to fail," he said. "But I think if you can fail and learn from that failure, you will succeed down the road."
Sarah Pressman
Sarah Pressman has found the most notable difference between KU and her other academic experiences is the amount of school spirit.
"The number of university T-shirts that I see on a single day in Lawrence is probably as many school shirts as I saw during my entire graduate career," she said.
Pressman, who earned a graduate degree at Carnegie Mellon University and completed a postdoctoral fellowship at the University of Pittsburgh, has finished her first year as an assistant professor of psychology at KU.
She said she and her husband, Brian Potetz, a new assistant professor in computer science, fell in love with Lawrence. Coming here also gave her an opportunity to contribute to KU's growing health psychology program.
As a Gallup senior research associate, Pressman presented research at this year's American Psychomatic Society meeting that showed positive emotions were consistently linked to better health across the world, even in poverty-stricken nations where basic needs were not met.
Since coming here, Pressman said her research interests have broadened through collaborations with other professors, graduate students and even undergraduates.
"I just look forward to building up my career as a professor," she said, "and getting more involved in the KU campus community."
Laura Moriarty
Laura Moriarty may be a first-year assistant professor of English at KU, but she has longtime roots here.
She received both her undergraduate degree in social work and her graduate degree in creative writing at KU.
"I was in New England when I sold my first novel in 2002, and when I realized that, as a working writer, I could live and work almost anywhere, I came right back to Lawrence," she said.
Returning to the teaching world after writing full-time for six years, however, has brought its adjustments. After meeting with students and grading papers, she's found she has to be more disciplined to continue her writing.
Looking back, Moriarty said she thinks she's happier now with a balance of teaching and writing. As "somewhat of an extrovert," she found it a little difficult to work alone at home every day.
"There's a lot of pressure making a living with just writing, and no matter how well things are going, it never feels truly secure," she said.
Moriarty's third novel, "While I'm Falling," was released Aug. 4. It's her first novel set in Lawrence, about a college student and her divorcing parents.
Copyright 2018 The Lawrence Journal-World. All rights reserved. This material may not be published, broadcast, rewritten or redistributed. We strive to uphold our values for every story published.