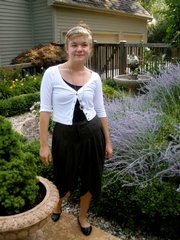 Caroline Bauer
Age: 22.
Sign: Cancer/Leo.
Hometown: Lawrence.
Time in Lawrence: Most of my life, although I just returned from Massachusetts, where I attended university for four years.
Occupation: I'm a recent graduate, so I am currently looking for employment.
What were you doing when scouted? I was catching some rays. I love being outdoors whenever possible.
How would you describe your style? My style isn't overly trendy-more classic. Classic pieces that take a good looking-for to find. Originality is key.
What are your current favorite fashion trends? I really like the throw-back to the early '90s style that is happening right now. You know, acid-washed jeans and cropped shirts or tanks. I also like anything and everything high-waisted.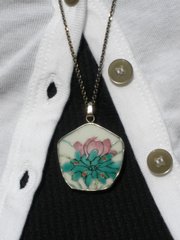 What are your least favorite fashion trends? The Maxi Dress! It's the Juicy Couture 2-piece, suede jumpsuit in dress form. You just look so sloppy!
What would you like to see more of in Lawrence? I would love more places to go dancing. There are a few good DJs in great spots, but more variety-in terms of music, mainly-would be even better.
What would you like to see less of in Lawrence: Less urban sprawl. A more walkable city that brings things closer together would be great.
Who are your fashion influences? Chloe Sevigny is my biggest fashion influence. She really pieces her outfits together, and most times she's wearing more original pieces-not too trendy, but more personal.
People say I look like: They usually say 'Bjork.' I think its because we both have tiny eyes and are petite!
Favorite summer Lawrence activity: The Saturday Farmer's Market is my favorite! I like picking up fresh, local produce and the potted herbs. It has great vibes, too-all the early-birds and music. Plus, I've been going there for about 12 years, so I know most of the vendors. They watch you grow, and you watch their business grow.
What is your favorite Lawrence group (i.e. art group, music club)? My mom's writing group, Blue Stem, is a creative, wonderful group. They get together every Thursday at Wheatfield's Bakery to discuss their work.
Tell us a secret: I check theselby.com about eight times a day. It's 'inspiring people in inspiring places.'
Harem Pants, purchased 2 weeks ago in Chicago at H&M; for $30.
Black Flats, also got 2 weeks ago at H&M; for $20.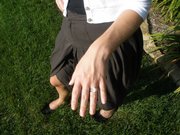 Michael Stars button-up cardigan, mom bought it for me at Spectator's during the Sidewalk Sale.
Black camisole, purchased three years at Anthropologie in Kansas City for $30.
Signet Ring, my parents got if for me four years ago from Mark's Jewelers.
Necklace, a gift from my Great Aunt a couple years ago.
Earrings, my parents got if for me two years ago from Mark's Jewelers.
Copyright 2018 The Lawrence Journal-World. All rights reserved. This material may not be published, broadcast, rewritten or redistributed. We strive to uphold our values for every story published.