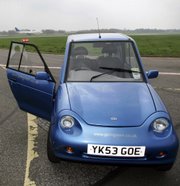 Berlin — Forget that they're cramped, have a limited driving range and outstrip the average consumer's pocketbook. The race is on to create a viable electric car.
Germany — home to brands including Volkswagen, Porsche and BMW — became the latest country to fast-track development of electric cars, the government approving a plan Wednesday that aims to put 1 million of them on the road by 2020.
The goal is ambitious. Of the 41 million cars in the country, only 1,452 are electric, and Germany is entering an increasingly congested field.
Competition
This month alone, Nissan Motor Co. in Japan unveiled the Leaf, an electric car scheduled to go into mass production for a global market in 2012. General Motors touted triple-digit mileage figures for its rechargeable Chevrolet Volt. And President Barack Obama committed $2.4 billion in federal grants to develop next-generation electric vehicles and batteries in the U.S.
To help bring Germany up to speed, the government plans to spend some $705 million on the plan over the next three years — including $164 million to establish eight test regions examining how the cars could best be introduced.
It plans to put $242 million into battery research, making domestic production a priority and ensuring that German experts are trained in the technology.
The massive, sensitive, costly and fast-depleting batteries that take the place of internal combustion engines and gasoline are expensive to produce, and countries like South Korea and Japan are far ahead in research and development.
Electric cars are also more limited than their gas-guzzling cousins, running 40 and 120 miles on a charge, while taking anywhere from two to seven hours to fully recharge.
Electric cars are becoming a more common sight in European cities where the streets are narrow, parking spots are rare and traffic is thick.
From London — where hundreds of the two-seater G-Wiz ply the streets — to Berlin, the demand for the vehicles is expected to rise even as a long-lasting battery remains out of reach.
Future production
Analysts expect global production of purely electric cars to expand rapidly in the coming years. IHS Global Insight forecast that it will grow from nearly 9,500 this year to more than 58,000 in 2011.
In April, London Mayor Boris Johnson launched a plan to get 100,000 electric cars onto the streets of London by 2015, including the creation of 25,000 charging stations.
He promised electric motorists an exemption from the congestion charge imposed on drivers in central London, an annual savings of up to about about $2,600.
Germany's Volkswagen AG, Europe's biggest automaker, has said it hopes to introduce its first electric cars on the market in 2013. Daimler AG, which has been testing an electric version of its two-seater Smart, is working with California-based electric car maker Tesla Motors Inc. on developing better battery and electric drive systems.
In the U.S., General Motors Co. plans to offer the Volt — a hybrid electric car — next year at a cost of about $40,000.
Ford Motor Co. will also offer an all-electric commercial van in 2010 and plans to have three other electric vehicles available in the U.S. by 2012.
Copyright 2018 The Associated Press. All rights reserved. This material may not be published, broadcast, rewritten or redistributed. We strive to uphold our values for every story published.