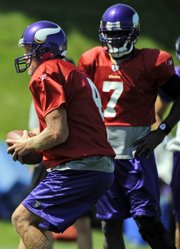 The Favre effect
The Vikings have sold more than 3,000 season tickets since news broke that Brett Favre was coming to Minnesota. That's in approximately a 24-hour span.
Chief marketing officer Steve LaCroix says the team has sold about 10,000 single-game tickets during that time as fans clamor over the arrival of the veteran quarterback.
Seats for the game against Green Bay on Oct. 5 are only available through a season ticket. There are roughly 7,000 season tickets remaining. The Vikings had to race to beat the blackout deadline for several games last season.
Merchandise is also moving. LaCroix said several hundred pre-orders for Favre jerseys were placed online Tuesday. The purple No. 4s showed up in stores on Wednesday.
Eden Prairie, Minn. — The salt and pepper in Brett Favre's hair is long gone, with only a few flecks of brown remaining in the silver atop his 39-year-old head.
He has a torn rotator cuff in that famously bionic arm and it's been 12 years since he won the last of his three consecutive MVP awards.
Most Minnesota Vikings fans are celebrating Favre's arrival as the missing link between their franchise and the Super Bowl glory that has eluded it for 48 years. They envision the exuberant, 27-year-old showman running around the Louisiana Superdome with his helmet aloft after throwing a touchdown to Andre Rison in the Packers' Super Bowl victory over the New England Patriots.
But that was 13 years ago.
So before the purple faithful book trips to Miami for the Super Bowl in February, one question remains to be answered: Just how much does Favre have left?
Even Favre doesn't know.
"I'd be the first to admit that I don't think I'm capable of making some of the plays that I used to make," Favre said. "My mind may tell me I can. But I don't know if physically I can do that. So understanding my limitations, how it pertains to what I can do, is all part of this process."
Favre practiced with the Vikings for the second time Wednesday, and the team thinks there is at least one more year's worth of magic in a right arm that turns 40 in October. So the defending NFC North champions have brought in the once-hated rival to lead them past the Packers, Bears and Lions and to their first Super Bowl appearance since 1977.
"I think sports fans in general are going to say, 'Can the old man do it again? How well can this guy play?"' said NFL Network analyst Steve Mariucci, who served as Favre's quarterbacks coach during his best seasons in Green Bay. "All eyes are going to be upon the Vikings because they want to see if he can do it. My guess is he will."
Favre is entering his 19th season in the NFL, having played at his pinnacle from 1994-97, when he revived the dormant Packers and helped return the franchise to elite status.
In those four seasons, he won three MVP awards while averaging 4,015 yards passing, 36 touchdowns, 14 interceptions and a 94.6 quarterback rating. The Packers won one Super Bowl and played in another in that span.
He became an icon in Green Bay, and throughout the NFL really, during those golden years. Zinging passes into the tightest of windows in double coverage, taking chances few other quarterbacks would take and laughing about it all the way earned him adoration few others have enjoyed.
The numbers continued to pile up in the ensuing years, but the Packers never got back to the big game with Favre.
The statistics have dipped over the last four seasons, three with the Packers and one with the New York Jets. He has averaged 3,848 yards passing, 22 touchdowns, 21 interceptions, a modest 80.1 quarterback rating and has only thrown more TDs than interceptions once during that time.
"I haven't been the best player. But I would love to think that every player I played with would love to have me in the foxhole," Favre said. "I have no idea what's going to happen this year, as I had no idea last year. As I look back, I gave it everything I could give. And that's what I'll do this year."
Favre was playing at a Pro Bowl level through the first half of last season with the Jets before a torn biceps tendon rendered him ineffective. He threw two touchdown passes and nine interceptions as the Jets finished the year 1-4 and missed the playoffs.
Copyright 2017 The Associated Press. All rights reserved. This material may not be published, broadcast, rewritten or redistributed. We strive to uphold our values for every story published.