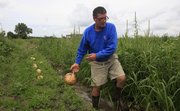 For all of you out there waiting for the tomatoes you've planted to turn from green to red, take heart in knowing it's not your fault they haven't ripened.
It's the weather.
August — a time when most farmers and gardeners are looking toward the skies and pleading for rain — has turned out to be an unusually wet month.
"I think there is a lot of disappointment in the garden this year," said Jennifer Smith, extension agent for horticulture with K-State Research and Extension in Douglas County. "I think with all the cool, wet weather, the plants are having a hard time getting deep roots down into the soil. And the few hot days that we have had, the plants aren't prepared for it."
The extension office has received the most questions about fledging tomato plants, but Smith said late summer crops such as watermelon and cantaloupe are also struggling.
Amateur green thumbs aren't the only ones frustrated with all the rain. Tom Buller, market coordinator for the Lawrence Farmers' Market, said the wet weather has been a problem for some of his vendors.
"Traditionally, the crops of summer like it hot and dry," he said. "Cantaloupe and watermelon need moisture, but they don't need this much."
Mike Garrett, whose family has owned a fruit and vegetable stand north of Lawrence for four generations, said he has already lost about 5,000 cantaloupes because of the rain.
"Cantaloupes have a thin skin on them and won't take much water," he said.
Garrett also fears for the pumpkin crop that will be ready to harvest in a few weeks. For Garrett, field conditions are almost as bad as 1993, a year when flooding left much of North Lawrence under water.
According to Mary Knapp, state climatologist, this summer is the 15th wettest on record.
"It is wet, but it is not by any means the wettest we have seen," Knapp said.
For the past 30 years, Lawrence has averaged 3.81 inches of rain for the entire month of August. Wednesday morning's thunderstorms put this month's total at just shy of 5 inches, according to data recorded at Lawrence Municipal Airport.
The increased moisture is primarily from a jet stream near Baja, Calif., that is sitting farther south than normal. It's a weather pattern that is leaving parts of Texas in a drought and the Northwest hot and dry, Knapp said.
Along with the rain comes cooler weather. Neither July nor August has had a day that reached 100 degrees. Although there have been relatively hot days mixed with high humidity that resulted in conditions that felt like the temperature was more than 100 degrees.
The cooler weather means that crops will take longer to mature, and the rain brings a higher chance for fungus to spread. Still, Kansas hasn't seen the arrival of the late blight that has taken a toll on tomatoes in the eastern part of the country, Smith said.
As for the region's major cash crops, corn and soybeans, the rainy weather could translate into a bumper year.
"They are growing like gangbusters," said Bill Wood, who is the agriculture agent for K-State Research and Extension in Douglas County.
But it has been a tricky year for those baling hay. Brad Rice, who farms south of Lawrence, said while the rainy weather was a challenge, it also extended the growing season a little longer. He was able to bale up most of his hay during the breaks in the rain.
"We had windows," he said. "It was just a matter of working a little harder in a shorter amount of time."
Copyright 2018 The Lawrence Journal-World. All rights reserved. This material may not be published, broadcast, rewritten or redistributed. We strive to uphold our values for every story published.