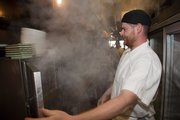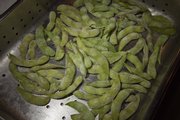 CHOOSING EDAMAME
How to pick: If picking fresh edamame in pods, pick ones that are bright green, plump and even in size, not shriveled or discolored, says Aliza Green, author of "Field Guide to Produce."
How to store: According to Green, fresh edamame can be stored in an open container in the fridge for up to a week.
Simple preparation: Edamame can be boiled — about 7 to 10 minutes in a gallon of water per pound — or roasted — 15 minutes in a 350-degree oven, after being cleaned and rubbed with salt.
-->
-->
GREEN BEAN
About: Edamame means "branch bean" in Japanese, according to Aliza Green, author of "Field Guide to Produce." It was developed in Japan as a shell bean and are enjoyed as a snack throughout Asia.
Season: In the U.S., It is available fresh in the summer. It can be grown in hot-houses, though, and be available year-round.
Nutrition: Per cup, edamame has 17 grams of protein, 8 grams of fat, 8 grams of fiber and provides 20 percent of your daily iron and 10 percent of your daily calcium, according to www.nutritiondata.com.
-->
-->
Edamame.
The name harkens to something exotic from a land far away, but edamame's biology is something decidedly more down home.
The fuzzy, bright green pods are really just simple, young soybeans, and they are just as easy to grow in your backyard or find at the Lawrence Farmers' Market as they are to pick up in the freezer section or a sushi house.
Surprised? Don't be.
The soybeans have become a staple in pan-Asian restaurants in recent years, where they are simply boiled and served seasoned, plain or with sauces. But in all reality, they are not something confined to exotic cuisine.
"Actually, I wonder how different they really are," muses Bob Lominska of Lawrence's Hoyland Farm, about the difference between seeds for edamame and those for common soybeans.
In 2007, the regular old soybean, which is used for everything from soybean oil to animal feed to packaged foods, was planted on 63.6 million acres of U.S. soil, and 26,000 of those acres were in Kansas, according to the American Soybean Association, which does not distinguish between types of soybeans in its facts.
A versatile staple
Yet edamame is something quite different from your run-of-the-mill field crop. According the "Field Guide to Produce" by Aliza Green, edamame was a crop cultivated by the Japanese to be a shell bean. It is young, sweet, tender and can be eaten raw right out of the shell or boiled and salted.
That's just two ways Subarna Bhattachan, co-owner of Zen Zero, 811 Mass., grew up eating edamame as a child in Nepal. He's had it prepared a variety of ways — salted, unsalted, raw, boiled and cooked in a traditional style he can only compare to a tomato-less pico de gallo.
"We would boil it and mix it with onions, chili, cilantro and a little bit of lime juice, and make it pico de gallo-style without the tomatoes," Bhattachan says. "We do that once in a while as a special (at Zen Zero) because people do like it, but mostly we just serve it plain with kosher salt — the traditional Japanese style."
Serving it up that traditional way, the restaurant goes through about 50 to 60 pounds of beans a week, Bhattachan says. Though when he and his partners opened up the Asian fusion-themed "noodle shop" in 2002, it took awhile for the clientele to warm up to the idea of the green little pods.
"We've had edamame since day one," he says. "We thought that would be a really neat, interesting appetizer, because around here, most people either have soybean oil or they know it in terms of tofu or dried soybeans. When we first opened ... I would say it was not the most high-selling appetizer.
"In the beginning, the reception was, I would say, kind of medium, but now people order it quite often. We sell it quite a bit."
You say potato
Bhattachan says the increased prevalence of edamame, as well as the idea that it's a healthy snack — full of protein and fiber, not heavily processed or fried — has contributed to the green soybean's growing popularity in his experience.
"It could be something to do with healthy food. It also could be ... a lot of kids like it because it's easy. It's kind of like a finger food," he says. "Part could also be the exotic aspect."
However, he's quick to stress that to a large chunk of the world, edamame is no more a novelty than a potato, if a potato were a super source of protein.
"Soybeans are a huge source of protein in other parts of the world, especially Asia, and so they use them in various, various different forms," he says. "Edamame the word, I would say, is more Japanese, but green soybeans are eaten all over Asia. A lot of people will eat them with the pods, just like the edamame style — boiled. But it depends from country to country how they use them, just like mashed potatoes, it depends. Parts of America have different styles."
Lominska maintains that as a crop, edamame is just as amenable to adjustment as it is on the dinner table.
"Soybeans are really flexible," he says. "You can have multiple plantings during the growing season so that you have them at a right stage at any given time instead of a big plush coming in all at once."
The only restriction, he says, is making sure your beans come to maturity before a frost. In fact, that sounds like the only thing edamame might not pair well with — cold weather.
RECIPES
Edamame Hummus
2 cups edamame, shelled and cooked according to package directions
1/4 cup soybean oil
3 tablespoons lemon juice
2 teaspoons garlic, chopped
3/4 teaspoon cumin, ground
1/2 teaspoon salt
Puree edamame, oil, lemon juice, garlic, cumin and salt in food processor for 30 seconds, scraping sides twice, until almost smooth. Cover and refrigerate until ready to serve.
— Recipe from the United Soybean Board
Summer Bean and Corn Salad
3/4 cup low-fat Italian salad dressing
1/2 teaspoon chili powder
1 tablespoon fresh lemon or lime juice
1 tablespoon fresh cilantro, chopped
1 cup fresh cooked whole kernel corn or frozen corn
1 can (15 ounces) black beans, drained and rinsed
1 red bell pepper, finely chopped
15 ounces edamame, cooked, drained
1/2 cup green onions, diagonally sliced
1 garlic clove, minced
1/2 cup red onion, sliced
6 cilantro sprigs for garnish
In a jar with a tight fitting lid, combine Italian salad dressing, chili powder, lemon juice and chopped cilantro. Shake to mix well. Place vegetables in large bowl. Toss with dressing. Refrigerate, covered, at least 6 hours or overnight. Garnish with a few sprigs of cilantro.
— Recipe from the United Soybean Board
Asian Coleslaw
1 package Ramen noodles (do not use the seasoning pack)
3 ounces slivered almonds
1/2 cup sunflower seeds
1/4 cup margarine or butter
1 bag shredded cabbage
1 bag shredded broccoli
1 cup fresh or frozen edamame
4 green onions chopped
1/2 cup rice wine vinegar
2 tablespoons low sodium soy sauce
3/4 cup sugar
3/4 cup soybean oil
For the crunchy topping, break up the noodle block and mix with the remaining ingredients. Place on a cookie sheet and bake for 12-15 minutes at 350 degrees until golden brown. Cool and set aside.
In a large mixing bowl, add cabbage, broccoli, edamame and green onions.
For the dressing, mix sugar and vinegar together. Combine the soy sauce with the oil. Slowly add to the sugar mixture to emulsify. Add to the cabbage mixture right before serving and garnish with crunchy topping.
— Recipe from the United Soybean Board
Copyright 2017 The Lawrence Journal-World. All rights reserved. This material may not be published, broadcast, rewritten or redistributed. We strive to uphold our values for every story published.