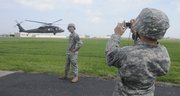 Neither military nor humanitarian crises that demand U.S. military presence overseas have affected ROTC program numbers of Kansas University's campus.
In fact, recruitment numbers for the KU programs have grown, said William McGreer, senior military science instructor at KU.
"I really don't think there's any correlation to what's going on overseas to what's going on here," said McGreer, who is affiliated with KU's Army ROTC program. "I think kids are realizing they want to get involved in a military program and have their education paid for."
Army
While it seems that a fluctuation in the amount of troops overseas would immediately impact KU's ROTC recruitment, this fall numbers in the university's Army ROTC program are on the rise.
"The enrollment numbers have increased over the last three years from around 62 in May of '06," said Ted Culbertson, KU's Army ROTC scholarship and administrations officer. "This year, we're projecting fall of '09 enrollment of 124."
He says that increase is anything but common.
"I don't think it's typical at all," Culbertson said. "What we're trying to do is diversify … one-third on scholarship, one-third in (National) Guard or Reserve, and one-third are your average student who wants to try the program out."
Leaders in KU's military science department also believe with the economy down, this could be an ideal time to join the ROTC program, secure a long-term career and save money on education all at once.
"I think it's offering more for them," McGreer said. "The draw here is to have school paid for, and most kids are given some type of scholarship that allows them to go to school."
While the Army prides itself on helping young men and women grow individually, it also provides students with education in the field of their choice. Those within the program also believe that their military experience will not only improve, but change lives.
"It's kind of interesting because you think about camaraderie and a band of brothers or sisters that you can rely on, and ROTC has really become that," McGreer said.
Air Force
The Army ROTC isn't the only program experiencing growth. Although KU's Air Force ROTC numbers have remained steady over the past several years, with just over 60 students expected for the fall semester, more students are completing the program than in years past.
"First and foremost, this program is about developing leaders," said Lt. Col. Gena Stuchbery, an adjuct professor for Air Force ROTC. "If a young person wants to grow as an individual and develop their leadership skills, the military and the Air Force does that better than anyone else."
As with the other branches of the military, Stuchbery says a student's reason for joining their program is as unique as the cadet themselves.
"Many join us because of patriotism, and there are still folks who want to support the flag and defend our country," she said. "Others are out for a sense of service and want to serve others, and still there are some to whom this is a family tradition, and they want to carry on that family heritage."
For those looking to get away from the tough economic climate and get a college degree when finances are low, the Air Force has many scholarship opportunities available. Still, program leaders believe if that's your only motivation, other cadets will leave you behind.
"We are looking for a very competitive gene pool. If you're average and you're looking to get a scholarship, you probably won't be competitive with your peers," Stuchbery said. "If you want to learn what it takes to lead others and be successful and motivate and accomplish goals, this is the program for you."
The Air Force ROTC also has many opportunities for students away from the classroom that can tap into the individual's adventurous side.
Whether it's free-falling from an airplane at the Air Force Academy in Colorado Springs, Colo., or traveling to Turkey as part of their cultural immersion program, leaders believe the possibilities are endless for their cadets.
"There are a lot of cool things to do beyond your summer job," Stuchbery said.
Navy
Battalion numbers also are on the rise in the Navy and Marine Corps.
"As we were drawing down, they were seeing a reduction in the amount of officers needed in the Navy," said Capt. Thomas Arnold, professor of Naval science in the KU naval ROTC program. "Now that we are leveling off and we need to sustain numbers, we are increasing the numbers coming into the program to sustain us and keep us at our current level."
KU's naval ROTC is expecting to reach nearly 90 students by the start of fall classes. Twenty-five to 30 incoming freshmen are signed up, and that's nearly 20 more than were signed up three years ago. Leaders say the growth is due to hard work within the program and a large presence on campus.
"It's been very exciting for us," Arnold said. "I think it's a very exciting time. I think the military is a great way for a student who is inclined towards this type of service to get valuable leadership experience."
Naval science instructors say the educational programs offered in their department are just as challenging as the physical expectations of future naval officers. Between their junior and senior years, students are sent to Quantico, Va., for Marine Corps officer candidate school.
"It's a four-week program, kind of like a boot camp, but (with) higher expectations because they are going to be officers and it's very rigorous," Arnold said. "It's very demanding both physically and mentally. They have to demonstrate their leadership abilities, and if they do not successfully complete that and graduate, then we cannot commission them as a Marine Corps officer."
Arnold says the growth in the program is very rewarding for leaders of the program. They also say the Navy ROTC at KU is a great way to prepare men and women for leadership in future careers.
"The more of a presence we have on campus the better," he said, "so other students can appreciate what their fellow students have chosen to do in serving their country."
— Staff writer Mark Boyle can be reached at 832-6327
Copyright 2018 The Lawrence Journal-World. All rights reserved. This material may not be published, broadcast, rewritten or redistributed. We strive to uphold our values for every story published.