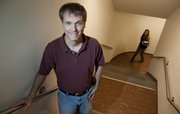 Kansas University is among a few selected universities named as one of the "great colleges to work for" in 2008.
The university employs 13,000 faculty and staff at campuses in Lawrence, Kansas City, Wichita and Overland Park. KU ranks in the top five large universities in categories ranging from healthy faculty-administration relations and work-life balance to pride and respect and appreciation recognition, according to the study conducted by the Chronicle of Higher Education.
But with another 2 percent blow from the state, meaning cuts from the state now total more than $36 million, some university employees are nervous.
"We're worried," said Jordan Yochim, the associate director for administration of the Natural History Museum and Biodiversity Research Center. "We don't have a lot of play room. None of the units of KU do."
New KU Chancellor Bernadette Gray-Little knows she is entering into a less-than-ideal budget situation.
"The situation is stressful, I think, for everyone who is involved in it, whether you are someone who feels your position may be affected or someone who makes the decision," she said. "Lives are being affected by this — lives of individuals as well as programs you're tried to develop."
The Lawrence campus is operating on 121 fewer positions, including 55 faculty spots in the College of Liberal Arts and Sciences, compared to last academic year. According to an annual financial report in 2008, KU spent more than $60 million on academic support and an additional $35 million on institutional support. After the additional 2 percent budget cut, it was announced that there would be no regular merit salary increases, either.
Nearby, Baker University, a private college in Baldwin City with campuses in Overland Park, Topeka and Wichita, has cut 30 employees since February. The university has seen a $1 million shortfall caused by numerous factors, including the November layoffs at Sprint, who had many employees enrolled at the Overland Park campus. The school has also implemented work reductions and will leave some vacant positions unfilled.
Kansas higher education institutions will receive about $50 million dollars in federal stimulus funds, and a recent tuition increase for 60 percent of students will make up for less than one-third of the money lost from the state.
They have about 150 job openings posted on the KU Web site, including temporary workers and distinguished professors and just about everything in between.
But some departments are being thinking twice about hires to make sure they save the people they currently have on staff.
"We're being extremely careful about hires and investments in research infrastructure," Yochim said. "Until we have a better picture of what's going to happen at the state level ... we're being quite cautious."
Departments around campus, including Yochim's and the library system, are looking to make cutbacks that might change operations but don't affect people.
"We have prided ourselves all along in regularly keeping an eye on efficiency," said Lars Leon, the head of resource sharing and delivery services for the university's library system.
Leon said the budget puts even more focus on evaluating just how streamlined all the library's processes are.
"We were actually able to do some savings by just holding those returns (borrowed from other libraries) a couple of days, so we batched the returns and mailed them back," Leon said.
The Natural History Museum has been doing the same thing.
"We've closed the public galleries one day a week," Yochim said. "We have not had to cut staff lines. We've lost some student support."
Yochim noted that only six of 60 staff members for the museum are in administration.
"Most everyone is in either research, in research support or in public programs," he said.
Leon said he didn't have a sense that people in his department are nervous, but he also can't predict what will happen in the coming months.
"They're (library administrators) trying hard to find the things that we can cut without really impacting our service to the community, staffing, but who knows what the future holds?" Leon said.
Yochim said he is cautiously optimistic that the worst is over.
"We weren't riding as high as other states were when the waves were high, but we're not sinking as low, either," he said. "(Another 2 percent cut) is much less severe than many other states are having to face. I'll be glad when it's over and we can concentrate on the fun stuff."
Copyright 2018 The Lawrence Journal-World. All rights reserved. This material may not be published, broadcast, rewritten or redistributed. We strive to uphold our values for every story published.