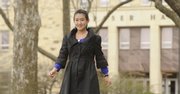 The present economic situation is creating challenges for many college students, but international students at Kansas University are not only having to navigate the ups and downs of the U.S. economy, but also must deal with conditions in their home countries.
"Most difficult for our international students is the weakening of many foreign currencies against the American dollar," said Joe Potts, director of international student and scholar services. "Korean students may be affected the most right now, since the Korean won has devalued significantly. At one point this spring, it was down 50 percent against the dollar compared to the rate last August."
Bon Kyoung Ku, from Korea, agreed that the depreciation of the won is the biggest challenge faced by Korean students at KU.
"This makes it difficult for students to pay tuition and living costs, since it makes our parents have to pay almost double the money in Korean won," Ku said.
International students at KU pay out-of-state tuition. The estimated annual cost for nine months of study for an incoming international freshmen studying in the College of Liberal Arts and Sciences is $30,892, including tuition, fees and living expenses.
"If the value of a currency drops compared to the dollar, you can see how fast annual costs for the student will grow," Potts said.
So far only one student has indicated the need to drop out for a semester because of financial reasons, Potts said.
"We've had a number of students come to us and ask for assistance," Potts said. "Unfortunately we don't have much we can offer them. As this economic situation continues, there is a good chance that we'll see more students who need to drop out for a while."
Beyond paying for their education, there also is the challenge of getting a good job after graduation. That is the biggest concern for Rodrigo Perea, from Peru. Perea is a graduate research assistant finishing his master's in bioengineering. Although Perea said the economy in Peru is strong with one of the highest growth rates in Latin America, Peruvian economists are predicting the global situation may affect the country negatively in the next couple of years.
"I was expecting to get some academic training or an internship with a U.S. company, but with people getting laid off, everything looks very challenging," Perea said. "The only options I have are either to go back to Peru or stay here for a Ph.D. program."
Undergraduate international students are not allowed to work off campus, but they may work up to 20 hours a week on campus.
"That is, if they can find a job," Potts said. "It is my guess there is more competition for those on-campus jobs now, with more domestic students also looking for employment."
International students can apply, through the U.S. government, for permission to serve in internships or for post-graduation work opportunities, but it is up to the students to find those positions.
"Previously they have been fairly successful in getting this kind of experience in their chosen fields of study, but now it is very, very difficult to get an internship or job after graduation," Potts said. "The situation may not improve any time soon."
Luyan Wang, from China, said for now the economy in her home country remains strong and shouldn't immediately affect Chinese students studying at KU. But, Wang noted, the recession is global and in time may affect China's economy. For now, though, it is the effects of that recession here in Lawrence that have the biggest impact on Wang.
"I read newspapers and can see how this downturn has affected U.S. and Lawrence businesses," Wang said. "Walking downtown, I see stores closing already, and I feel really sad about that."
Copyright 2018 The Lawrence Journal-World. All rights reserved. This material may not be published, broadcast, rewritten or redistributed. We strive to uphold our values for every story published.