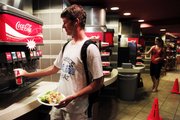 Related document

KU contract with Coca-Cola ( .PDF )
Pepsi, Mountain Dew and Dr. Pepper fans will have to wait at least another decade for the possibility of buying their favorite soda at Kansas University.
KU and Coca-Cola agreed to a new 10-year contract last year, extending the previous contract that was signed in 1997 and maintaining Coca-Cola as the only licensed beverage company on campus.
But for those with disappointed taste buds, the new contract provides significant benefits for KU students, officials said.
The new contract, which runs through 2017, will bring $12 million to KU over the life of the contract, and the funds generated by the contract will support National Merit, National Achievement and National Hispanic scholarships, as well as other university and student support programs.
While some students were disappointed, the differences between Coca-Cola and Pepsi drinks weren't that large.
"It all tastes the same to me," said Holly Tetreault, Oklahoma City graduate student, who bought a Coke at the Kansas Union recently.
Others, such as Darci Goddard, Logan senior, find creative ways to deal with their Pepsi preference. Goddard said she prefers Pepsi, so she buys Cherry Coke on campus, which she thinks tastes more like Pepsi.
"I just have to deal with it," she said.
Competition for the new contract came down to the two heavy-hitting beverage companies, said David Mucci, director of the KU Memorial Unions. But Coca-Cola, with their infrastructure for beverage services already in place, had the better offer for KU.
"They had a better financial and programmatic bid," said Mucci, adding that the contract was negotiated in conjunction with KU Athletics, which also sells Coca-Cola beverages at athletic events.
Mucci said customer service surveys are conducted at the unions to gauge student satisfaction with products and services, and the issue of which beverage students prefer isn't a hot topic.
Mucci said that with the many flavors Coca-Cola offers, such as Sprite, Cherry Coke and Pibb Xtra, students have a wide selection.
"Their product line has gotten so broad," he said.
And with studies on their mind, some students who wish Pepsi were offered on campus try to keep the issue in perspective.
Beth Ruhl, Lawrence senior, said she is forced to choose Coke over Pepsi a few times a week, but she tries not to get too upset about it.
"It's not the end of the world," Ruhl said.
Copyright 2018 The Lawrence Journal-World. All rights reserved. This material may not be published, broadcast, rewritten or redistributed. We strive to uphold our values for every story published.