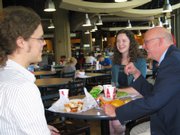 Learn more
For more information on the Take Your Professor to Lunch program, visit www.clas.ku.edu or call the College of Liberal Arts and Sciences at 864-3661.
A new program is uniting Kansas University students with their professors through the one thing any student would love — free food.
The College of Liberal Arts and Sciences launched the Take Your Professor to Lunch program in 2007-2008 to change the way professors and student interact.
"After seeing research that students were more successful in college when they knew their professors outside the classroom, the College of Liberal Arts and Sciences created the program as a way to help students build those relationships," said Kristi Henderson, outreach coordinator for the college. "KU is a big place, so Take Your Professor to Lunch aims to create personal connections that provide a sense of community for students and faculty."
It works this way: To be eligible, students must have a major that falls under the College of Liberal Arts and Sciences. Each eligible student is allowed one lunch with a faculty member per academic year.
Vouchers worth up to $15 are given to the student to pay for lunch. The vouchers are redeemable at on-campus dining locations.
Students who are interested in the program are encouraged to schedule a time and date for the lunch with the faculty member before applying. To participate in the program, students must fill out a form, which is available at www.clas.ku.edu. Students who wish to take a professor to lunch as a group are limited to three students.
Henderson said the lunch format was chosen because it offered a casual, one-on-one setting that allows for more personal interaction with professors than in a classroom.
"My experience was fantastic," said Kevin Campbell, a student and teaching assistant. "The faculty member I took to lunch was very welcoming of the idea and glad to schedule lunch. I was able to build a relationship with him that, partly thanks to the lunch, continued to grow and eventually became very important to me at my time at KU."
And he added of another benefit: "Oh, and a free lunch."
Participation doubled from 75 students the first year to 150 last year.
"These personal connections have many benefits," Henderson said, "including better letters of recommendation from professors."
Copyright 2018 The Lawrence Journal-World. All rights reserved. This material may not be published, broadcast, rewritten or redistributed. We strive to uphold our values for every story published.