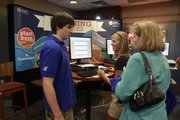 In June, amid the state's gloomy budget picture, Kansas University leaders had to ask the Kansas Board of Regents to add to the tuition increase they had already proposed months earlier.
Regents approved the 6 percent increase for many KU students and a 7 percent increase for incoming freshmen on the four-year tuition compact. As state agencies faced more budget cuts during the economic crisis, KU leaders said the increases were justified.
"The bottom line for KU is that we do our very best to keep tuition and fees as low as possible and provide a very high-quality education," said Marlesa Roney, KU's vice provost for student success. "Any time there is a tuition increase, it is only to maintain quality."
The condition of higher education funding in the state has raised alarms with some leaders, who worry that state university tuition increases during the last several years could one day price out some Kansas families.
"I just think common sense tells us that when people are struggling in difficult times, it has to put more pressure on their ability to fund education, be it for their children or people who are paying their own way through," said Regent Gary Sherrer of Overland Park.
Sherrer and Regent Donna Shank of Liberal voted against KU's latest increase. Even though they have voiced concern about higher tuition in the past, both said they could have supported a lesser increase of 4 percent and 6 percent for incoming KU freshmen.
Sherrer, a former lieutenant governor, blames the Legislature more than universities for the state's higher education budget picture, saying it set the universities back to their 2006 funding level.
Meanwhile, thousands of Kansas families will be working through their budgets, tapping into financial aid and sending their children to KU and other state universities this fall.
"It's definitely a priority that you have to make with kids, and we have been saving ever since he was a baby," said Claudia Kressig, of Lawrence.
Her son, Ben Kressig, graduated from Free State High School in May, and he will attend KU to study business,. He hopes to make a career in the music business.
Priorities, costs
The Kressig family is preparing to send Ben off to college and the costs that come with it. Ben's father, Kevin Kressig, runs his accounting firm, Wagner and Kressig, in western Lawrence, and Claudia Kressig also works there.
The couple have an older child who has taken some courses at Johnson County Community College. They also have a 14-year-old son who is a few years away from college.
"It's just something that we have made a priority to try to help our kids with," Claudia Kressig said.
Ben will apply for jobs on campus to try to work about 10 hours per week to help with expenses.
"We have the expectation they will treat it like a full-time job. That means he will have a certain budget," Claudia Kressig said.
The Kressig family is supportive of KU's four-year tuition compact started in 2007, which freezes tuition for incoming freshmen at the same amount for all four years.
The rate for Ben's class for in-state students is $3,679 for 15 credit hours per semester, compared to $3,438 for the 2008 freshmen and $3,195 for the 2007 class. The Kressig family still won't see anything unexpected in his tuition bill if he finishes in four years.
"The first summer when we announced the plan at new-student orientation, it was very common the audience would break into applause," said Roney, the KU vice provost.
KU developed the plan working with student leaders before the 2007-2008 academic year started, and this year, KU's tuition increases didn't apply to 40 percent of undergraduate students — the freshman and sophomore classes.
"It allows them to plan and to know what the cost of their degree will be at KU," Roney said. "It just makes it a whole lot easier for students and families to plan."
Incoming freshman Mallory Stevenson, from Leawood, said she chose KU over several out-of-state schools to be closer to her family. But she said her parents also have been enthusiastic about the tuition compact.
"That's one of the main reasons that they liked KU, especially since they told us even last year before even I started looking at colleges," Stevenson said.
The tuition compact is especially important during a recession, Roney said, because it takes away at least one unexpected cost increase. KU won't know if the economy will affect enrollment until its official fall head count, but in July numbers were looking strong, Roney said, particularly because more people tend to return to graduate school during a down economy.
Financial aid, economic impact
The recession has influenced the demand for financial aid.
More than 4,200 students benefit from KU's tuition grant fund, which was increased by $200 to a maximum $2,700 for the 2009-2010 school year, according to KU's Office of Student Financial Aid. Also, the federal Pell Grant has increased by $691 per year.
The financial aid office also can tap into some emergency funds and gifts to help families who come across a special circumstance.
"It is still about the best investment that an individual or a family could make," Roney said. "We know that even though things are tight with almost everyone, that investment in a college education has one of the highest returns on investment possible."
Claudia Kressig, of Lawrence, said she and her husband have made college a priority for their son, Ben.
"My husband and I are hoping when our kids get out of school, they will work hard, and they won't be burdened with the debt from getting out of school," Kressig said.
But as universities increased their tuition costs, and the economy forced cuts at the state level. Sherrer, of the Kansas Board of Regents, said he would like to see the state look more closely at the higher education funding and the financial aid system.
He doesn't consider it to be a crisis yet, but future tuition hikes that outpace inflation could move the state in that direction, he said.
"Any way in which we move the system to where, more and more, it will be a matter that education is not about who is capable, it's about who can pay for it is a disastrous path to go down," Sherrer said.
Copyright 2018 The Lawrence Journal-World. All rights reserved. This material may not be published, broadcast, rewritten or redistributed. We strive to uphold our values for every story published.