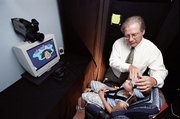 From tracking online social networking sites to charting vertebrate species on remote islands, Kansas University researchers touch a number of different topics and affects people's lives all over the world.
Multitasking and the elderly
Susan Kemper, professor of psychology, has been examining the effect of multitasking on senior citizens and younger people.
Kemper said her research grew out of observations that older adults develop a more restricted speech style, without the same level of grammatical and syntactic complexity.
She observed that when engaged in an activity such as moving a mouse cursor over a moving target, the speech patterns of younger people become much like that of older people, and the speech patterns of older people will start to deteriorate if the task becomes difficult.
"When you're trying to engage in one task or the other that's really demanding, there's not enough of you to go around," Kemper said.
Biodiversity in the Philippines
Rafe Brown, assistant curator of the KU Natural History Museum, is participating in a study that will attempt to catalog the vertebrates living on the Philippines.
It's a daunting task, he said, because even though the entire land area of the nation is about the size of Arizona, there's plenty of biodiversity.
"There's more species of land vertebrates in the Philippines than all of North America," he said, including birds, amphibians, reptiles and mammals.
He and his team uncover dozens of new species every year, and because some of these islands are so remote, the study hopes to teach others what is possible in conservation and protection of species.
"There's a lot they can do by example," Brown said.
Improving oil collection
Lynn Watney, a senior scientific fellow at the Kansas Geological Survey, is helping to improve oil collection at small drills throughout the state of Kansas.
About a quarter of the wells in the lower 48 states produce less than 10 barrels of oil per day, Watney said.
His research includes a new system of expanding the reach of the wells by attaching a motor to the end of a long, coiled tube to pull larger volumes of oil out from underground.
"It's like surgery in the field," he said.
Online social networking
With new Web sites bringing people ever closer to each other, Nancy Baym, associate professor of communication studies, examined the effect of social networking sites on friendship.
The target of her research was the music recommendation site last.fm, which allows users to become friends and share music tastes.
"There's a whole lot of different relationships hiding behind that word 'friend,'" Baym said, noting a mix between strong and weak relationships on the site.
Eye movements and autism
After noticing that autism is a disorder that has its roots in low-level brain systems, John Colombo, director of the Schiefelbusch Life Span Institute at KU, looked to the eyes for signs of early detection.
He worked with a graduate student, Christa Anderson, and noticed that pupils in children with autism do not dilate when shown faces of other humans, as happens with children without the disorder.
The findings allow autism to be diagnosed at an earlier age, instead of relying on the historical diagnosis, which had been based on the absence of language development, Colombo said.
Reducing tobacco effects
Emily Scott, an assistant professor of medicinal chemistry, is trying to lessen the effects of tobacco smoke.
Scott is developing a drug that would target a compound in cigarette smoke that becomes harmful when the body tries to remove it from the lungs.
The drug could reduce the risk of contracting lung cancer from smoking — but quitting would still be a far better option, Scott said.
"We're not advocating this as a safe way to smoke," she said.
Environmental advocacy
Don Worster, a professor of history, wrote a biography of naturalist John Muir. Called "A Passion for Nature: The Life of John Muir," the book partly explores the role Muir had in early environmental efforts.
Muir was mostly associated with Yosemite National Park, and many of his books are still in print today, Worster said. Muir was the founding president of the Sierra Club in the late 19th century and was an early advocate for environmental and conservation efforts.
Copyright 2018 The Lawrence Journal-World. All rights reserved. This material may not be published, broadcast, rewritten or redistributed. We strive to uphold our values for every story published.