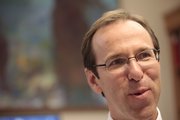 After already going through a rough round of state budget cuts in the last fiscal year, Kansas University officials are preparing for the possibility of more to come.
In the year ahead, KU will operate with larger class sizes, fewer faculty and staff members, and fewer course offerings for students.
The cuts have resulted in at least 55 faculty positions being frozen following retirements or resignations, and likely more than that.
In the College of Liberal Arts and Sciences alone this year, there will be 25 fewer graduate teaching assistants and about 75 fewer course sections offered.
If more cuts are ordered this year, the university may have to resort to furloughs for its employees.
Kathy Damron, KU's state lobbyist, said that the university was able to dodge a bullet when legislators decided against a plan that would have required mandatory furloughs for all state employees.
Danny Anderson, interim provost and executive vice chancellor, said that an internal policy allows for flexibility to protect some individuals from furloughs.
"A furlough is a temporary solution," Anderson said, saying that it would not change the base level of funding KU would need to receive from the state. "It doesn't make a permanent change."
Cost-saving possibilities
KU has looked at several plans for implementing furloughs if they become necessary, though any idea would have to be finalized and discussed further before being put into place.
At one budget session earlier this year, Richard Lariviere, then KU's provost, outlined one such plan.
That plan would have applied to administrators, faculty and staff, but exempted graduate teaching assistants, graduate research assistants and student hourly employees.
The plan would have based the number of unpaid days off on an employee's salary, with those making less money being forced to take less time, while those who made the most money had the most time.
"I really would love to not have to resort to this technique, but chances are we're going to have to next year," Lariviere said at the forum, which took place in March.
The goal would be to have furloughs not affect insurance or retirement benefits.
He ruled out across-the-board salary or hiring freezes because it was difficult to make them work in an institution of the complexity of KU.
Deep losses
Even if furloughs are not needed, the cuts so far still run deep — KU lost more than $36 million off its state funding from the previous fiscal year. Tuition helped some, raising $9.8 million in revenue. Though KU received more than $15 million in federal stimulus dollars, two-thirds of that was dedicated to deferred maintenance by mandate from the Kansas Board of Regents.
Barbara Atkinson, KU's interim chancellor between Robert Hemenway and Bernadette Gray-Little, who also oversees the KU Medical Center campus, said KU has been lucky so far that they "have not been doing any major mothballing of programs."
"Up to this point, we've really managed to do very well," she said. "But $32 million causes a lot of changes."
At the KU Medical Center, she said, and particularly in the School of Medicine, a focus has been on attempting to shift the funding sources for many people away from state funding.
That has been done for 363 positions, she said, although for many of them, that funding source will not be permanent, as some are using clinical revenue.
The national health care policy changes likely imminent will likely have an impact on hospital revenue that is difficult to determine at this point, Atkinson said.
All the state revenue problems have encouraged some levity in tough times. Damron, speaking to a crowd of faculty earlier this year, had an amusing suggestion for those looking to help out.
"Encourage people to buy aircraft," she suggested, referencing a bedrock of the Wichita economy, which is currently suffering along with KU and the rest of the nation.
Copyright 2018 The Lawrence Journal-World. All rights reserved. This material may not be published, broadcast, rewritten or redistributed. We strive to uphold our values for every story published.