Photo Gallery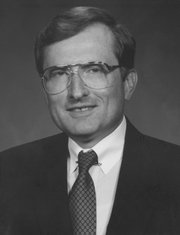 Former Kansas University chancellors
A look at former Kansas University chancellors, with short bios and photos provided by KU.
As Bernadette Gray-Little begins her tenure at Kansas University, she'll be drawing on the successes — and failures — of others in her academic career.
KU's 17th chancellor has spent some time of her own watching new chancellors come and go at the University of North Carolina-Chapel Hill, and she has picked up a few things from them.
One who Gray-Little said was very effective in the first few months did exactly the kind of thing that she said she hopes to do in her first few weeks on the job.
"That is, getting to know the campus, getting to know the community, recognizing that as chancellor, you represent an institution with a strong and deep history, and learning about that and making people feel comfortable with you as a person representing that," Gray-Little said.
Aside from some typical beginning-of-the-school-year activities, that will be at the top of her list in the coming days, she said.
Another chancellor at UNC who had less success faltered by not taking the time to engage and talk to faculty — a mistake Gray-Little said she intends to avoid.
Administrative searches — including tapping a provost and dean of KU's College of Liberal Arts and Science — also are on her docket, as Gray-Little has said she intends to begin forming a committee to find a new provost as soon as possible.
These tasks and many more in the years ahead will fall to a woman who leaves her home state at age 64 to begin a new set of challenges atop Mount Oread.
Gray-Little rose through the academic ranks quickly after becoming UNC's dean of its liberal arts college, being named provost in 2006 without a national search after UNC's academic leaders agreed that she should be the choice only weeks after the vacancy occurred.
She was hired as KU's chancellor in May after a search process that proceeded relatively quickly for top university searches after Chancellor Robert Hemenway announced he would step down in December — a pace that search committee chairman Drue Jennings said helped avoid a vacuum of leadership as much as possible.
Jennings said the committee was impressed with Gray-Little's professionalism, her academic credentials and her sense of humor.
He said her experience overseeing a research university with a research budget more than twice the size of KU's would help her to grow KU's capacity beyond the successes of Robert Hemenway.
Donna Shank, who was then chairwoman of the Board of Regents, said the board was "overwhelmed" with how impressive Gray-Little was.
"She identified priorities for KU that are absolutely in line with our priorities for KU," Shank said at the time.
Born in Washington, N.C., she is married to Shade Little, who served an assistant dean for academic support services at UNC. She has two children and one grandchild. Her academic background is in psychology, having written on topics like diversity, domestic violence and marital quality.
KU's 17th chancellor is its first female and first black chancellor — she has said she hopes her diverse background can promote a more diverse campus environment by showing how the university is a welcoming place.
"Getting things done"
Looking back on her career, she said she remembered not the academic appointments and promotions as highlights, but some of her accomplishments along the way.
"It's getting a person appointed to something that I thought was really very good and successfully making the appointment, or successfully starting a program or sometimes getting a salary increase for someone who's needed it," Gray-Little said.
In hiring her, regents pointed to a wide array of leadership experience, including her oversight of a National Cancer Institute-designated Cancer Center at UNC.
Hemenway had designated KU's own pursuit of the center as its No. 1 research priority. Gray-Little said that she agreed it was an important part of KU's path forward.
"I believe it's the kind of thing that is important because of the funding that would be received, but it's also important because of what it says about the maturity of your research program in that area," she said. "And so it's an acknowledgment of what you have done, but I think most people see it as a sign that there is something bigger and better to come."
In addition to the cancer center designation, Gray-Little also mentioned improving undergraduate graduation rates at her introductory press conference as a key goal she had for the university.
She said in a later interview that when universities admit students, there is a sort of implicit commitment that they think those students can succeed, and that graduation rates are a key measuring stick used to compare how well universities are doing.
After answering the earlier question about her proudest achievements, she paused for a moment, before summing up more than a minute of reflection and recollection on her career in seven words.
"Getting things started and getting things done," she said.
Copyright 2018 The Lawrence Journal-World. All rights reserved. This material may not be published, broadcast, rewritten or redistributed. We strive to uphold our values for every story published.