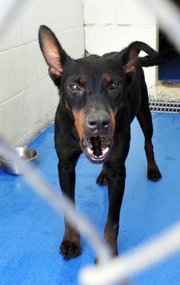 A retired German professor from the University of Georgia who was killed in an apparent dog-mauling incident also taught at Kansas University several decades ago.
Autopsy reports and police said Lothar Karl Schweder, 77, and his wife, Sherry Schweder, 65, appeared to have been killed by nearly a dozen dogs along a rural Georgia road, according to The Associated Press.
According to the AP, Sherry Schweder had been out for a walk when she was attacked, and her husband died trying to fight off the mauling animals.
Virginia Lewis, now executive director of the KU Diabetes Institute at KU Medical Center, was Lothar Schweder's student in 1965.
William Keel, chairman of KU's Germanic languages and literature department, said Schweder served as an instructor from the mid-1960s until the early 1970s at KU, likely part of a program instituted by the department chair at the time to bring over young scholars from Germany to teach.
"He really cared a lot about his students," Lewis said. "He was just a very good teacher."
She said that Lothar Schweder came to the university from a part of Germany now in Poland. He would occasionally talk about his time in the Hitler Youth program — required of all German citizens at the time — and how much he hated it, she said.
Lewis said Schweder did not earn a terminal degree at KU.
"He never could focus in on one thing and get his Ph.D.," she said.
She kept up with her old teacher until the early 1970s, she said, and also knew his wife. Lewis said she had lost touch with him until recently, sending an e-mail that was never returned, possibly to a bad address.
Then she got the news of his death.
"It was kind of a shock to pick up the paper this morning," she said, after reading about the Schweders' deaths.
Authorities rounded up about 11 dogs Monday and returned to the area Tuesday to find four more spotted by a deputy. The dogs were being held by animal control officials while authorities decide what to do with them, said Jim Fullington, special agent for the Georgia Bureau of Investigation.
"It just appears that a large number of dogs had started living, running together, multiplying and had grown into what I would describe as a pack of wild or feral-type dogs," Fullington said.
Copyright 2018 The Lawrence Journal-World. All rights reserved. This material may not be published, broadcast, rewritten or redistributed. We strive to uphold our values for every story published.