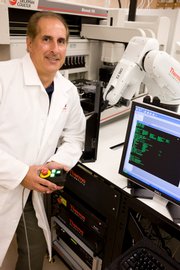 In a Denver suburb, the University of Colorado Cancer Center sits atop a mountain in more ways than one.
In the world of cancer centers, its altitude is lofty as one of about 60 centers across the country that have been designated as either a cancer center or comprehensive cancer center by the National Cancer Institute.
That's a mountain that leaders at the Kansas University Cancer Center desperately want to climb.
But while so much attention at KU has been focused on the quest, there is the question of what they will find if they ever reach the summit.
Or, one could say, a pot of gold.
Top talent
At the University of Colorado Cancer Center, researchers garner about $110 million per year in federal cancer research funding. Dr. Tim Byers, interim director of the center, estimates that the figure could be $50 million less if the center did not have the coveted NCI designation.
"We probably would be a third to a half less in our cancer portfolio because we wouldn't have been able to attract the quality of researchers that we have," Byers said.
The idea of an NCI designation being a magnet for top talent is a sentiment shared at other NCI-designated facilities.
"The designation is a clear sign to potential faculty that there is an integration, a collaborative approach that happens here," said Chris Dunham, manager of outreach administration at the University of Nebraska Medical Center's Eppley Cancer Center in Omaha.
But Byers said the public sometimes is mistaken about what the designation does for a center. He said the designation shouldn't be viewed as a receive-it-and-they-will-come type of scenario. That's because the trick to receiving a NCI designation is to show that you already are at a level to deserve the designation, not that you will be at the level some point in the future.
Byers said that means centers must attract top researchers before they receive the designation. Winning the NCI designation then becomes important in keeping those researchers.
"In some ways, it is not so much about all the extras you get when you have it, but it also is about what you can lose by not having it," Byers said. "You start getting questions about why you haven't gotten it. Are you too small? Are you too insignificant?"
Patient boost
That's not to say that earning the designation doesn't make life a little easier. Leaders at the Hollings Cancer Institute at the University of South Carolina have said recruiting top researchers has become easier since the center received NCI designation this spring.
The designation also causes patients to take greater notice of a center, because oftentimes an NCI-designated center can put patients in touch with doctors who are working directly on new treatments for particular types of cancer.
"All of this means that there is more research taking place here," said Dunham, at the Nebraska center. "Patients understand that the research that takes place here can turn into possible treatments for patients."
Sometimes the boost in patient activity can be significant. Andrea Brown is the assistant director of administration at the Hollings Cancer Institute at South Carolina. Previously, she was at the Siteman Cancer Center at the Washington University School of Medicine in St. Louis. She said the day after the St. Louis clinic received NCI designation, phone lines were full from patient inquires. She said it is possible for clinical revenue to increase 30 percent following a NCI designation.
"Patients who may have gone somewhere else now will go to the NCI cancer center that is closer to them," Brown said.
Seal of quality
NCI-designated cancer centers can be very regional in nature. The University of Colorado Center, for example, routinely treats patients not only in Colorado but also from western Kansas and parts of Nebraska, Montana and Wyoming.
KU's center, if designated, would become the first in the Kansas City region.
With a regional draw also comes the ability to attract fundraising on a broader scale.
"It does help with fundraising, especially in this part of the country where there aren't a lot of other cancer centers around," Byers said. "The designation is a seal of quality, and that can help in fundraising and community relations quite a bit."
The NCI designation also allows centers to tap into a special pool of NCI funding that is designed to help centers fund core research services. But Byers said that's not the real benefit of an NCI designation. For example, of the $110 million of funding at the Colorado center, only about $3.5 million comes from the NCI pool.
While that money is important — because it funds activities that normally aren't eligible for grants — Byers said the larger benefit of an NCI designation is how it helps you stand out from the crowd in the increasingly competitive federal grant arena.
"Having the designation puts us into the elite cancer programs in the country," Byers said. "It is really a pride and status symbol that can help in so many ways."
Copyright 2018 The Lawrence Journal-World. All rights reserved. This material may not be published, broadcast, rewritten or redistributed. We strive to uphold our values for every story published.