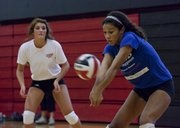 Monday afternoon marked the first day of fall practices at Lawrence's four high schools.
In addition to the usual excitement that typically surrounds the opening day — hugs for old friends, handshakes for new acquaintances and smiles for the hopes of the team — Monday's action featured a few teams attempting to pick up where they left off in 2008.
The Free State football team is at the top of that list, largely because the Firebirds reached the top of the mountain last season. Although they did not win a state championship, they played in the big game — a 19-14 loss to Junction City — and talk of getting back to the title contest was the focus of Monday's practice.
"We got a little taste of it last year, and now we want to win it all," senior lineman Matt Ruder said. "That has just made us work that much harder."
For the returning letter-winners, many of whom played a key role on last year's team, Day 1 served as a rite of passage. This is their team now. They're the ones who will be asked to lead, teach, tutor and mentor. That fact was not lost on senior wide receiver Aundre Allen.
"Some of the guys who were around last year have tried to step up and make this our team," Allen said. "Everybody's been waiting for this day to get here. We know what to expect, we know what it takes to get there, and it's exciting to be out here again working to do it."
For Bob Lisher, who begins his 13th season as the Firebirds' head coach, the first day of practice unfolded the way he has come to expect.
"Every year's a new challenge," Lisher said. "On the first day of practice, we don't have too much on our minds other than paperwork. But it's always good to get back out here and start coaching football again. When you get something that's special, like we did last year, you always get a bunch of kids who want to repeat that."
Across town, in the LHS gymnasium, repeating last year's feat was the topic of discussion for another team that reached the state tournament a season ago.
Picking up where it left off was a main theme for the LHS volleyball team, and with five returning varsity players and a talented batch of newcomers, it's easy to see that the standards are high at LHS.
"I'm more anxious to get started than I have been in a long time," third-year coach Stephanie Magnuson said. "And I think that's because of the expectations we have."
Added senior Jasmyn Turner: "I think even the new players that are joining the varsity team understand what we're striving for and that we all want to win state. If they don't already, I think they will very soon."
These two teams weren't the only squads to kick off their seasons on Monday. Six other sports at each school, along with a handful at Veritas Christian and Bishop Seabury Academy, started their seasons as well. Many of them, including the FSHS girls cross country team (third at state in 2008), FSHS gymnastics team (state qualifier in 2008) and LHS boys cross country team (state champs in 2008), have fond memories from last season and high hopes for this season driving them, too.
Others simply saw the arrival of the 2009 season as a chance for a fresh start.
Fall practices will resume this afternoon, and the first competitions are scheduled to begin the last week of August.
Copyright 2018 The Lawrence Journal-World. All rights reserved. This material may not be published, broadcast, rewritten or redistributed. We strive to uphold our values for every story published.