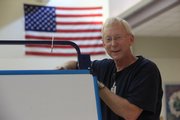 John Harrod's love of life has been seriously tested. The 57-year-old, who is head custodian at Quail Run School, has survived two bouts with inoperable cancer.
"Don't ever let doctors tell you how long you have to live," he says. "It's up to you, your own attitude and the man upstairs."
Harrod isn't just grateful to be alive; he's thrilled he's found a wonderful job in later life.
Born in Kansas City, Kan., his family moved often to be near his father's construction jobs before settling in Lawrence when Harrod was a sixth-grader. After graduating from Lawrence High School in 1970, he joined the construction business, where he remained until suffering from double vision in 2001.
"I was sent straight to Lawrence Memorial Hospital from the doctor's office," he recalls. "Tests showed a malignant, inoperable tumor in the brain's center. I remember the doctor saying: 'No matter what angle you look at it from, it's still in the same place.'"
A second opinion concurred. He was referred to Johns Hopkins Hospital in Baltimore for a new radiotherapy treatment with a 98 percent success rate.
"I went in there weighing 265 pounds and came out 140 pounds, but the tumor shrank, too," Harrod says.
He was declared cancer-free and only required annual checkups. He retired from construction work, but that didn't last long.
"Connie (wife of 37 years) kept giving me honey-dos, so I decided I needed another job," he jokes.
He started work at Lawrence's Turnpike convenience store.
"It was great fun, and I loved meeting people from all over the world," he says.
Cancer struck again in 2004.
"It was in my throat and tonsils," he says. "When we got the news it was an inoperable stage four, Connie asked if I'd lose my hair if I had chemotherapy. The doctor said 'yes.' When she told him she'd be able to play join-the-dots on the freckles on my skull, we fell about laughing. The doctor thought we were nuts, but, of course, you have to be to get through all this."
This attitude accompanied them through the next scary stage. During treatments at LMH, he suffered a heart attack due to a chemical drug reaction and needed emergency surgery to clear arterial blockages. Again he beat the odds and was declared cancer-free in 2005.
He attributes his survival to a positive attitude, great medical treatment and Connie's support.
"She's my angel in shining armor," he says. "She's been at my side every step of the way. I don't know where I'd be without her."
He returned briefly to his convenience store job, worked 10 months as assistant custodian at Lawrence High before getting his present position in 2006. He's in charge of Quail Run's overall maintenance, cleanliness and safety. His workday begins at 5 a.m., but he doesn't complain.
He loves his job and being an integral part of the school community, where pupils affectionately call him "Mr. John."
"Yes, I have my challenges and bad days," Harrod admits. "But I fully appreciate the gift of life and opportunity to serve others in a great environment."
Copyright 2018 The Lawrence Journal-World. All rights reserved. This material may not be published, broadcast, rewritten or redistributed. We strive to uphold our values for every story published.