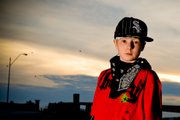 When Jake Landgrebe returned to school last week, the seventh-grader at Southwest Junior High School came back after taking part in a true midsummer's night dream.
His dream? To dance. The setting? New York. The supporting cast? Famed dancers and choreographers Mia Michaels, Dave Scott, Shane Sparks, Wade Robson and Cris Judd.
During the last week of July, Jake got the chance to dance for hours night and day with more than a few of his idols at The Pulse summer event in New York. The Lawrence 12-year-old hip-hopper won a scholarship to attend the event after impressing organizers at a The Pulse on the Move event in Kansas City this year.
"They were all really good," he says. "I watched all of them on 'So You Think You Can Dance,' 'America's Best Dance Crew' — it was a lot of fun meeting them and great learning from them."
Jake must have impressed them, too: He won a scholarship to return to the summer workshop in 2010.
Jake began dancing at age 5, when mom Laura Landgrebe enrolled him in a boys' hip-hop, tap and tumble class.
"The reason we did was his sister was dancing at the studio and we were there all the time, anyway," says Laura Landgrebe. "Jake, he has a natural rhythm and natural ability."
He has danced with the Kansas University hip-hop dance team Unity and is currently a member of the Kansas City-based dance crew Nu Swagger.
His current teacher, Jennifer Kaylyn Hanson, met Jake when she was a member of Unity and has been his instructor with Nu Swagger through J.K. Choreography for the past three years. Count her excited about Jake's possibilities as a dancer.
"The Pulse convention has top-of-the-line instructors and choreographers," Hanson says. "These choreographers hand-pick students who they believe have raw talent. Jake was not only picked once, but twice."
And though Jake prefers hip-hop to other forms of dance, he expects to stick to the advice of the professional dancers at The Pulse: Diversify your dance portfolio. He plans to explore other types of dance and has already renewed his interest in tap.
He hopes that the advice and experience he's had at The Pulse will help lead to a long career in the business — one that might end with him going full-circle and teaching other kids.
"I really want to be a performer," he says. "And if I do performing for a long time and if I think I'm done with that and I think I can teach my skills to others, I think I'll teach, maybe go with a workshop like The Pulse ... or just go to a studio and teach for other kids."
Copyright 2017 The Lawrence Journal-World. All rights reserved. This material may not be published, broadcast, rewritten or redistributed. We strive to uphold our values for every story published.