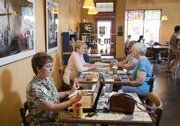 For David File, taking his laptop to a coffee shop is part-work, part-entertainment.
"I prefer to work at coffee shops because they are social places, but they are not distracting," he says. "I enjoy observing the people sitting around, and it provides some amusement when I'm tired of working."
File, an engineer and physicist who lives in Lawrence, doesn't mind the muted conversation at a coffee shop. He doesn't like working at home because it's too isolated and there are too many distractions.
He's among the Lawrence professionals who turn local hangouts into offices of sorts, sipping joe while plowing through the day's work.
Coffee shops are increasingly being treated as a second "office" by people because they have the quality of being "third places," a term coined by Ray Oldenburg, a retired sociology professor from the University of West Florida. Third places are public, neutral places that allow people to forget their concerns and just enjoy the company and conversation around them. They are in contrast of "first places" (home) and "second places" (work).
Coffee shops give people the impression of having company without getting distracted by conversation, Oldenburg says.
Patti Pope, a registered nurse with the Visiting Nurses Association, visits at least two to three patients per day and has to fill out paperwork after each visit. It's not feasible for her to go home after each visit, so coffee shops are the perfect solution for her.
"I love coffee shops because they have great atmosphere and plenty of freedom," she says. "I enjoy being able to sit next to the window and people-watch or just look out."
Pope says she doesn't like working at the office because there is too much noise and too many distractions. She doesn't mind the noise at coffee shops because she says it's "blind noise," so it does not disturb her.
The coffee shops she chooses, though, must have certain features. The coffee must be of good quality, there should be outlets for her laptop, there should be free wireless Internet access, and the shop should have appropriately soothing music.
If working professionals have turned coffee shops into their "offices," then students are not far behind. Nora Jaafar, a senior at Kansas University and regular at Java Break, also prefers to go to coffee shops to study.
Like Pope, Jaafar's choice of a locale also has to meet certain requirements.
"The coffee shop I study at must have a good environment and must sell fair trade coffee," she says.
Jaafar's solution for when the "blind noise" becomes too distracting? Simple: She plugs in her iPod and just tunes them out.
Copyright 2018 The Lawrence Journal-World. All rights reserved. This material may not be published, broadcast, rewritten or redistributed. We strive to uphold our values for every story published.