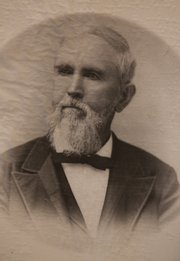 JOHN SPEER TIMELINE
1817 — Born in western Pennsylvania.
1854 — Moves to Kansas.
October 1854 — Publishes first antislavery paper in the state, the Kansas Pioneer, which later becomes the Kansas Tribune.
1855 — Helps to survey the site now occupied by Kansas University, serving as an early advocate for the university.
1857 — Elected to first term in free state House of Representatives.
1862-1866 — Serves as U.S. collector for the state of Kansas.
August 1863 — Two eldest sons are killed during Quantrill's Raid. Speer survives by hiding in a corn field, though his home and newspaper office are destroyed.
1864 — Elected to Kansas Senate.
1883 — Moves away from Lawrence, ending up in Garden City.
1906 — Dies in Denver.
2000 — Murphy-Bromelsick House, which dates back to the 1860s, is moved to Hobbs Park, 12th and Delaware streets, as a memorial to the city's heritage and to Speer, who owned the property where the house now sits.
2001 — Hobbs Park Memorial is dedicated during ceremony featuring area dignitaries.
-->
-->
Marty Speer grew up hearing the stories, but he didn't pay much attention to them.
Family members would talk about his great-great grandfather, John Speer, the early Lawrence pioneer and publisher of the Kansas Tribune, an anti-slavery paper and one of the first in Kansas.
They talked about how he survived Quantrill's Raid and about how he defiantly took a stand on the abolition issue in his newspaper.
"I remember bits and pieces, but very little," Speer says. "You could fill up a thimble."
That's changing, little by little.
Speer, who grew up in Wichita but has lived his adulthood outside of Kansas, has returned to Lawrence to learn more about his famous relative and to spread the word about the family's heritage.
The 67-year-old artist is staffing a house in Lawrence's Hobbs Park, a memorial to John Speer, three days a week in exchange for using the space as a studio.
"I knew I had to do something to continue the Speer name," he says.
Family connection
The Murphy-Bromelsick House, originally at 909 Penn., was moved to 10th and Delaware streets and dedicated in 2001. It's a tribute to John Speer, who owned the property where the park now is located. It's now under the control of Lawrence Parks and Recreation.
Though $250,000 has been spent to restore and move the 500-square-foot house, its advocates would like more to be done, including new lighting and exhibits.
Marty Speer had been living in Montana the past two years when he started thinking about those childhood stories about his great-great grandfather. He also has a daughter and grandson living in the area, so he decided to find out what he might be able to do to help further John Speer's legacy.
He got in touch with Mark Kaplan, who helped spearhead the Murphy-Bromelsick House project.
"We struggled through all this process," Kaplan says. "We hoped we'd find some family members who would have some innate enthusiasm, and maybe some of the (people) would have some money."
Speer, a lifelong artist, has the enthusiasm but not the money. He marvels to think that his great-great grandfather hid in a cornfield during Quantrill's Raid while his eldest sons, John and Robert, were killed and his newspaper offices were burned. That happened 146 years ago Friday — Aug. 21, 1863.
Speer's eyes sparkle with wonder as he talks about the impact his relative made on Lawrence — both the abolitionist history and what happened afterward, with John Speer advocating such projects as Kansas University and Oak Hill Cemetery until his death in 1906.
"There's such a long list," he says. "He was an instigator of so many good things."
'Prodigal son'
For the past few months, Speer has opened up the Murphy-Bromelsick House from 11 a.m.-6 p.m. Saturdays, Sundays and Mondays. There's a rag-tag set of photographs and displays inside the home that loosely tells the story of the abolitionist and the house.
Speer is glad to tell any visitor about the family's history.
"It's like the prodigal son has returned," Kaplan says.
And the large windows in the small house let in plenty of light to allow Speer to do his artwork. He's set up a work station in the center of the front room and sketches until visitors arrive.
In the past, his artwork has been influenced by American Indian images. But lately, he's been sketching figures from Bleeding Kansas history, including the figurehead John Brown. Kaplan is hoping Speer's artwork might be sold commercially in the future to raise money for the Murphy-Bromelsick project.
But Speer hasn't sketched his great-great grandfather yet. He's waiting for just the right moment to do his own artistic tribute to a man whose legacy he's decided to dedicate the rest of his life to preserving.
"It warms me inside to do something to carry on the legacy of something he started way back when," Speer says.
Copyright 2018 The Lawrence Journal-World. All rights reserved. This material may not be published, broadcast, rewritten or redistributed. We strive to uphold our values for every story published.